IMPORTANT: Instant Cash Sweepstakes has officially shut down in 2017 and is now PaidViewpoint.

* Our current#1 recommended alternative is Vindale Research (get a free $2 just for signing up). 
Is Instant Cash Sweepstakes Legit
---
Not only is Instant Cash Sweepstakes legit, it offers some of the best paying online surveys that are free to join.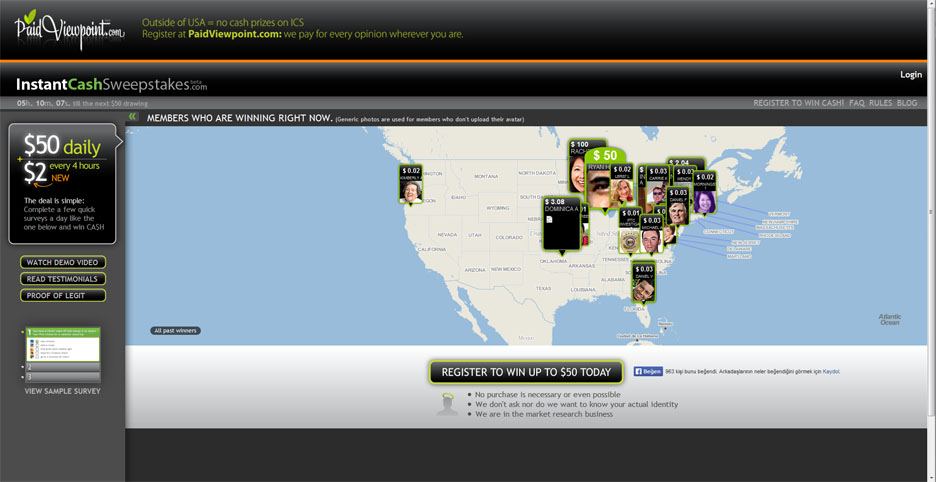 It's tough to find legitimate online surveys that pay cash through PayPal without hassle. I must say it is so nice not being limited to gift cards. And the kicker is that you have a chance to win an extra $50 everyday. No scam, no gimmicks! Real people win everyday.
Now to be perfectly honest I have not won the 50 bucks yet but then again I do not log in enough because I am not the biggest fan of taking online surveys. I just believe there are way better opportunities to make money online rather than the small payouts most survey/ sweepstakes companies actually payout.
But if you are set on taking surveys for a little extra cash (and I mean actual cash into your PayPal account) then you have found one of the most professional and entertaining sites. If I were to choose one favorite it would probably be Instant Cash Sweepstakes. For one, you have the chance to win $50 every day, on top of your normal winnings. What other company does that? None.
There is an air of excitement in the air when you're logged in, almost like a casino feel. Along with accruing cash for the surveys you've taken, they've added a fun little twist. You earn tickets and coins for every question you answer. You can buy more tickets with your coins to enter into the daily $50 sweepstakes giving you more chances to win.
The Best Part of All: No Waiting to be Invited
---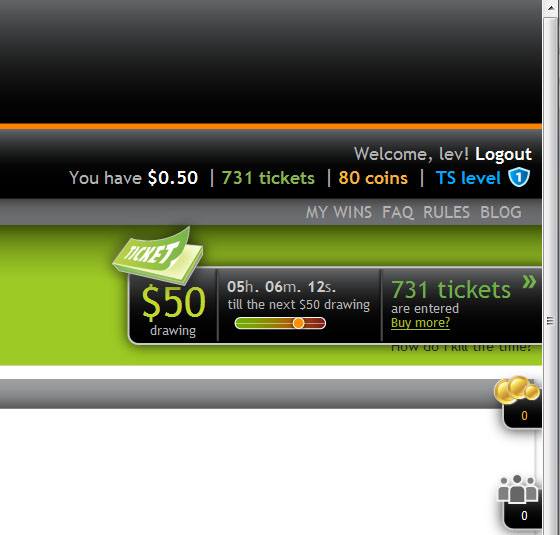 You don't have to wait until you get invites through email to get on and start making money. You can login at anytime everyday and there will be at least 5 or so surveys for you to do and each one takes like only 15 seconds to complete.
The questions are really simple, like "what is your favorite type of cookie", or "what are your favorite movies", etc. which allows you to zoom through racking up change. Really simple stuff…and occasionally you'll get pretty funny and  interesting questions too. Let's just say it's entertaining enough that I have yet to get sick of it.
As User Friendly As Can Be
---
The overall design is visually very appealing to the eye and the functionality is very straight forward, leaving no room for confusion, allowing you to get in and out quickly. This is good because that way you can easily log in everyday to earn money and get out within 5 or so minutes, while getting yourself entered into the daily $50 drawing.
On average I'm thinking you could potentially make well over a $1 a day and if you actually win the $50 sweepstakes a few times a year this could really add up, the reason it could quite possibly be one of the best paying online surveys. The good part is that you don't have to waste a lot of your time. You can cash out your earnings once you've reached the $15 threshold which should take a little over a week or so.
Make $25 for Every Friend You Invite
---
Wait a minute, does this sound a little bit too good to be true. Well it is true, it's just that it will take longer than you think to get it all. You only get 20% of your friends winnings at a time when they cash out. So for example, when they cash out $15 you will then get $3 added to your balance.
It's a pretty good opportunity to refer your friends through email and they also give you a link that you can post on your social media accounts like Twitter, Facebook, etc. If you actively recruit people you know and family friends through your online network you could add quite a nice income stream to your bank account.

In Summary (one last thing)
---
I do recommend Instant Cash Sweepstakes and their sister survey company, PaidViewpoints as well. You may read my review of PaidViewpoint here. I recommend signing up for free to all of my approved list of legit survey companies here.
I suggest joining all of them because you will not get invited to take surveys everyday by all of these. So this way you will be maximizing your chances of getting at least one survey a day from one of these sites.
In closing, I still feel obligated to let you know about my #1 recommended online community that can show you many other ways to earn more money online, since you are already looking to earn extra cash and are on the internet anyway go ahead and check it out. You may be surprised how much you can earn online.
I hope this write-up has helped answer the question in your mind is Instant Cash Sweepstakes legit. If you have had your own experience with other survey companies or have a been scammed please report it here and drop a comment below.