To build an affiliate website using WordPress, you'll also need quality hosting with fast page load speeds to rank high in the search engines. Below you'll see my top recommendation for an all-in-one suite, that has a free option as well as a premium package.
The ultimate goal is to grow your site over time and become an authority site in a particular niche that you're well-versed in. You'll need a website platform that will be able to perform well as your popularity increases. Consider your affiliate website as a big net that will eventually be pulling in a ton of visitors (traffic from the search engines).
WordPress.org is the number one platform used by affiliate marketers specifically because of how good it's search engine optimization (SEO) is. It's from this site you'll be promoting/recommending relevant services and/or products to generate high commissions, which will eventually become your recurring monthly revenue stream.
Affiliate marketers call this passive income. You'll set-up your site and create content upfront, then you'll be able to do less and less work as your traffic increases. I have even stopped working on sites for several months and I still get commissions from the traffic the site generates on a daily basis. This site can then be sold for big bucks down the line. But let's not get ahead of ourselves. First we need to tackle…
---
Below I'll be showing you the easiest to use, yet advanced affiliate website builder in the industry.
In this video, see just how simple it is to create an affiliate site in under a minute with Wealthy Affiliate's proprietary SiteRubix platform, which is seamlessly integrated with WordPress.org dashboard."
WordPress goes hand in hand with affiliate marketing and is the most used site builder platform in the industry. Million dollar affiliate marketing businesses are built on WordPress + SiteRubix + SSL.
So, you're ready to build your own money making site/blog? Awesome! You can create 2 free sites by clicking above.
When you sign-up you for free, here's what you'll get:
You get 2 free WordPress affiliate sites using the SiteRubix domains and thousands of site templates to use.
Example: yoursitename.siterubix.com
Free state-of-the-art high speed hosting
Hours of video training/tutorials on setting up and optimizing your site
Active community of experienced affiliate marketers available to ask questions to
24/7 SiteSupport, Live Chat
Or with the premium option, you'll get everything free members get, plus:
Industry leading hosting for 25 domains (that you own) +
Another 25 SiteRubix domains (example: sitename.siterubix.com)
50 affiliate websites total
If you have your own domain name or plan on purchasing one (you can buy at WA, they are an official domain registrar as well) then you'll need to purchase the premium package.
My #1 recommended package is their premium option…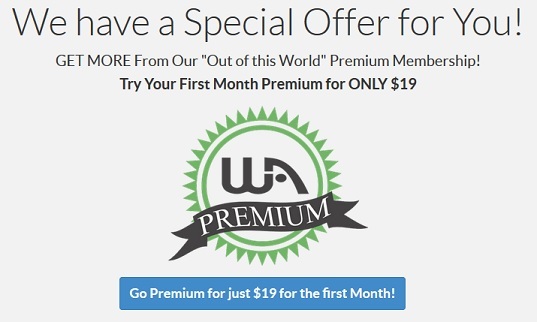 1st month $19, then $49 per month after.
*Comparable hosting packages range anywhere from $100+/mo. to $250 per month. So the savings is excellent.
Additionally, here are some of features you get as a premium member:
Free Secure Socket Layer (SSL) on all sites hosted (https)
Full Redundancy (100% full back-up of site, to the minute)
Daily back-ups included
Full website caching on server level for increased speeds
Real-time website monitoring and maintenance
Comment SPAM prevention
99.9% uptime
Access to 1 million+ high-def images (free commercial use on your sites)
Hack-proof (resilient DDoS, bruteforce attack protection)
Any other hosting company will charge 3 times what WA is charging and they are still inferior as far as page loading speeds and security features.
And that's just the hosting, and website related features. Within the WA platform you'll also get the following:
Access the active and thriving WA online business community w/ over 1.2 million  members strong.
Access to 'Ambassador' members and expert affiliate marketers to ask questions.
World-class training modules, over-the-shoulder video tutorials about WordPress and affiliate marketing topics
Live webinars, classrooms, chat room
Keyword research tools (Jaaxy keyword tool)
Build an Affiliate Website
---
In fact, you can have a free website of any kind up and running in under a minute! If you don't believe me keep reading and I will prove it to you before you're done with this article.
Nowadays there are services and web based platforms that take all of the technical aspects out of the website creation process. Making professional looking websites/blogs are completely "fool proof". I was there once too and I remember doubting myself, thinking there's no way I can create a website. Well stop psyching yourself out right now. You'll see just how simple it is down below.
First: What are the top Website "Must- Haves"?
---
Your presence online is determined by first having a place to host your 'web property' (website or blog). By hosting we mean a company that stores your website files and most likely will also be where you purchase your website name (domain name). However there's a better way, where you can get free hosting as well as two free websites, you don't even need to purchase a domain name. Although later you may want to.
Anyway, you want your website to offer the best possible user experience for your viewers when they come to visit your site, so you must consider the following when deciding on a company to go with.
1.    The amount of time it takes your site to load
2.    It must look pleasing to the eye
3.    It should be easy to navigate around
4.    And the most important of all, you must add quality content to rank in the search engines
I'm telling you right now, if you can complete these four aspects then you will clearly be on your way to running a successful business, and by business, yes I mean profitable website. However, in order for this to be simple and seamless you need to use the right system from the beginning. I always recommend using WordPress because it is the most robust and stable platform. Not to mention Google loves them because they are very SEO friendly. There are over a thousand free templates to choose from too.
Well it's time to check them out! As promised, you can create your very own Free WordPress site this instant…just enter a domain name in the box below.
Okay, now let's get back to the other goodies that I mentioned before…
How Important Is Using WordPress
---
You may have heard of WordPress or seen the little 'W' logo on other websites before. Well, currently it is the most popular website framework in the world and has the most users. By the way, this very website was created on WordPress.
On my 'About Me' page I reminisce of the old days when I took classes at my local junior college for hours upon hours trying to figure out how to html code websites manually. I still cannot believe how easy things have become. Seriously, anyone can create a website now with just a click of a button practically. Thanks to technology and WordPress, the world is a better place and now everyone can share and build and ultimately even create a new revenue stream!
The best things about using WordPress are: Google loves WordPress sites…
– There is all the support and help within the community that one could ever need
– You don't have to know coding or HTML, or have any prior experience
– Unbelievably easy to set-up (install your site with one button click below)
– More than 1,400 FREE designer website templates to pick out of
– Added website features and functionality with over 10,000 FREE plugins (add-ons)
It is plain to see that everyone who is serious about getting a solid start online uses WordPress exclusively and for the record, I have been using it with all of my websites for the past 5 or so years.
Would You Like to Create a FREE WordPress site Right Now?
---
Well it's time to show and prove! I told you I would. Now, I would like you to watch the video in full so you can learn how to do this for yourself and see just how easy it is. In this over-the-shoulder video it shows you step-by-step how to build a fully operational, search engine friendly WordPress website in about 30 seconds and all for free.
Click for video below…
WATCH VIDEO: Create a Website in Under 30 Seconds
Now I can only help you if you are willing to help yourself. You can have your very own website up and running in less than 5 minutes from now if you do the following three steps.
Here they are:
1. Get started creating your website pick out a professional template for $0 at Site Rubix (above)
2. Create a Free Account
3. Get TWO free websites with free hosting and access to the top-notch training areas
Now that wasn't so hard was it? In just minutes you've created a new site, using the free affiliate website builder, that you can now monetize at will if you wish.
If you need any help setting up your website or would like training on how to monetize your WordPress site message me using my profile link below…
---
*Please don't hesitate to ask below. If you thought this article on how to build an affiliate website was helpful or have suggestions let me know so that I can add more articles like it…you can also reach me directly inside of Wealthy Affiliate via my profile page. There are a ton more helpful videos on every topic you can imagine in there and everyone in this world-class community is super helpful, just go there.
I have done a full review here: WA Review