After knowing the answers to these question, wannabe bloggers and youtubers usually ask…
How do you start a blog? What do I blog about? How do I make my blog or youtube channel popular?
Today, I'll answer some of these questions on how to earn money from a blog and through affiliate marketing.
How much do bloggers make?
---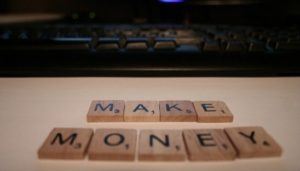 Let us start with this. After all, you're in it for the money, right? And yes, you most certainly can learn how make money from a blog. A lot.
I know there are many people, who just blog for fun. However, at the end of the day, you have to pay the bills. Thus, if you will be dedicating a significant amount of your time to blogging, you'll eventually want to earn an income.
According to a report by GlassDoor.Com, average blogger earnings range from $19K to $79K a year. A survey by Blogging.Com found that 17% of bloggers sustain their lifestyles and family with blogging. According to a survey by Problogger.Com, 9% of bloggers make between $1,000 and $10,000 a month.
The Highest Earning Bloggers in the World Are:
1. Michael Arrington- Founder TechCrunch.Com- Earns $500,000- $800,000 per month from blogging. The main topic that TechCrunch.Com covers is technology.
2. Peter Cashmore- Founder Mashable.Com – Earns $560,000- $600,000 per month from blogging. Topics covered by Mashable are technology, social media, business, and entertainment.
3. Mario Lavanderia- Founder PerezHilton.Com- Earns $200,000- $400,000 per month from his blog. Topics covered by Perez Hilton are fashion, entertainment, celebrities, and gossip.
4. Vitally Friedman is the founder of SmashingMagazine.Com. He earns $150,000-$190,000 per month from his blog. Smashing Magazine is a blog for web designers.
5. Timothy Sykes- Timothy's Blog, TimothySykes.Com majorly focuses on finance, investment, stocks and life improvement.
What do These Five Multi-Millionaire Bloggers Have In Common?
1. Their blogs are very popular
2. Their blogs rank highly in search engines making them get organic traffic.
3. They also rely on paid traffic.
4. A big percentage of their blogging income comes from affiliate marketing.
5. They have the right blogging niches.
The number one secret of top earning bloggers is having the Right Niche (to see what I mean click to the left).
***Hint: WA also teaches how to make money from blogging for free.
Well then, you might ask: What Do I Blog About?
---
The best part is that you'd be blogging on subjects that you're already into; your passions, hobbies or basically anything that you're knowledgeable about. Sharing your thoughts, providing helpful info to people with similar interest.
You'd need to pick a niche that will also have relating products or services that you can recommend or promote. Basically matching your interest with available affiliate offers.
With a simple Google search such as 'your interest + affiliate program', you'll find programs to enroll in. They will give you a special link to place on your blog and when clicked on, the sales will be tracked back to you. The commissions from these sales will be paid out usually through PayPal. You can then transfer the cash to your bank account.
So, most importantly you should find a niche that you will enjoy. You should be somewhat informed on your niche of choice and be willing to share content to your audience on a fairly regular basis.
• Some popular affiliate programs are Share a Sale, ClickBank, and Commission Junction. Type your topic in the search bars on these site to find relative offers to add to your blog.
• One of the best and most known is the Amazon Associates Program. As a member you can promote anything from their catalog relating to your blog.
How Do I Make My Blog Popular?
---
To make your blog popular:
• Your blog will need to have proper Search Engine Optimization (SEO). This helps Google and Bing crawl your website and list your site in the search results when someone is searching for a related topic on your site. Most WordPress themes have this built into your site anyway. There are plugins that help with this as well. I'll get into this later.
• You may need to build a presence on YouTube, Facebook, Twitter, Pinterest and social media networks. You should always share your articles and blog posts on these social media platforms.
The below lesson contains a thorough video lesson about social media marketing tips, tactics, and techniques, that will help get you on your way to blogging success.

• To gain popularity for your blog, consider having a YouTube channel and creating videos related to your blog and posting them on YouTube.
• You will also need paid traffic to increase the popularity of your blog. Join Google Adwords and Bing Ads to generate paid traffic. Here's How to Earn Money with Pay Per Click – PPC Marketing
Guest blog posting and reaching out to influencers in your niche is a great way to get more exposure.
Do You Want To Get Free Organic Traffic For Life?
---
Search Engine Optimization (SEO) will help you to get free organic traffic for life. It will also increase the popularity of your blog. Here are some basics on how you increase the search engine ranking of your website:
• Have high-quality content on your blog that has the right keywords and post regularly (atleast once or twice a week). Also, post relevant videos on YouTube. You can even embed others' popular videos on your blog.
• Build links to your blog by publishing high-quality content on other high-ranking websites and having links that point back to your website. This is usually done by putting your  website adress in your profile when posting a comment.
• Share your articles on social media.
• Install an SEO widget on your blog for proper optimization of headings and titles. The top two are:
Become a Paid Blogger with Affiliate Marketing
---
Yes, affiliate marketing will unlock the door to blogging income. If you're asking, what is affiliate marketing ?
Affiliate marketing is a marketing arrangement where an online retailer pays a commission to a blogger for generating sales or traffic for the retailer. Joining an affiliate marketing program that will connect you to merchants who are looking for sales and traffic.
I recommend learning from the best, join Wealthy Affiliate Online Business Community for free here. This where I got my start in learning how to blog for a living.
Also, check out my full review here: Is Wealthy Affiliate Worth It? Does it Really Work – 2017 
With Wealthy Affiliate, you'll get 2 income generating blogs with free hosting, hundreds of WordPress templates to choose from. Top-notch world class training, free step-by-step videos and courses. Plus the community is full of helpful members available to help with any questions you may have.  Be on your way to earning a full-time blogging income in a matter of months, if not weeks.
Start a blogging career and start building a steady income stream with Wealthy Affiliate. Don't miss this opprtunity to join free. You will not regret it. So hopefully I've answered your question of how to earn money from a blog, enough for you to at least take some action today.
P.S. please come back and let us all know what you thought of Wealthy Affiliate and how your experience was after joining. Thanks in advance.