Stick to it! Easier said than done right? I know. But, you really have to prepare mentally before you start. Tell yourself repeatedly that "I have to get past the 6-month mark". Go on… and say it out loud with conviction. Be convincing. This is the least amount of time it will take to really see your efforts materialize.
I'm just being straight with you. I will show you how to succeed in affiliate marketing but after reading this you will need all the help you can get.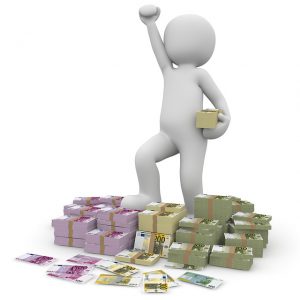 In order to be or become a successful affiliate marketer, most people don't push past the difficulty of creating content, sharing socially, marketing offers, etc. without seeing any sales.
The hardest part is working through the set-up phase of your online business while not earning a dime. Most people quit within the first few months because they have not seen any increase in traffic, clicks/conversions or commissions roll in yet.
---
Absolutely NOT! Here's why. First off, you must give yourself enough time to become successful, period.
I always say, if they only knew that success was around the corner though would everyone quit so prematurely? It really is a shame that the failure rate is so high. Don't become one of those negative statistics. Just know that within the year you will make it (best case 6 months).
But isn't it worth toughing it out to then have automatic passive income rolling in every month without any extra hard work. The hard work is put in at the beginning and then all you have to do is maintenance work which entails putting in maybe 8-10 hours a week. How does that sound? I know, hard to believe.
I mean think about it, you wouldn't just open up a shop and expect to turn a profit in the first 2-3 months now would you? Plus, by starting an online business you have very little overhead and almost no extra investment, so in a sense you're way ahead of any traditional business venture because you are not starting out with debt.
Now if you treat this venture like a real brick and mortar business, then in the back of your mind you will know that you're actually profiting already because you are not having to shell out thousands of dollars in start-up costs.
So you can actually take your time, be thorough and thoughtful about what it is you are focusing on.
Be Serious About Your Online Business
---
Be disciplined. And by not being in a rush to make money fast, you'll actually enjoy yourself and want to work on your online business more often. Believe it or not, this will lead to faster growth.
If you can just be patient and consistently work through the initial months, then you will see the fruits of your labor start to appear in the form of passive income start trickling in rather quickly. Trust me. And the best part is, once it starts it never stops and only grows bigger as time goes on.
Not to Be Cliché… but If I Was Able to Do It, You Can Too.
---
For a while now I have literally made it my mission to motivate people and convince them that they can get to where I am at simply by getting through the doubt and fear when starting in affiliate marketing.
It's a matter of persistence. Put it this way, if had given up 3 months, heck let's say 6 months in, I would not be where I am today. You have to believe in yourself. And you have to have the good sense that this takes time and is totally worth it in the end, even if takes you over a year to start making meaningful money.
---
TIP: Having this mindset along with having a mentor are the only reasons I was able to become successful.

 

Read my take on: why it is absolutely a necessity to have a mentor (and where to get one) when starting out in affiliate marketing.
Avoiding Shiny Object Syndrome
---
This will paralyze you and you'll be subject to information overload which will hinder you moving forward. Stick to affiliate marketing. It really is the tried and true method to creating substantial wealth and more importantly consistent monthly income.
Not a get rich quick, one-time campaign or some other scheme. I'm talking real passive income coming in every month that you can count on, pretty much guaranteed. By passive, what I mean is that once your blog/social media, whatever online presence you have established it set-up, with very little work you can maintain your growth and income. I am talking a few hours a week. Yes, that's it.
If that doesn't get you excited, I don't know what will. Even if it takes you a year to get there. You will get there. And when you do you might surprise yourself with how much you're earning. I was. I had wished I got involved in affiliate marketing much sooner in life, I would have been much more well off.
So don't put this off either. With little steps you can get started and sooner than later be earning a passive income in the range of $1,000-+$5,000 a month. I know some affiliate marketers who have really embraced the process and have repeated the steps by starting several online business making well above $10,000 a month.
The Sky Really is the Limit
---
You just repeat the process which pretty much just doubles your earnings. Each niche site or blog you build can earn you just as much as the previous, so you just keep building and adding and so on. As you do this your passive income just increases exponentially.
In order to stay on this track, I joined this large community of friendly affiliate marketers. We help motivate and keep each other accountable for reaching our goals. Because the last thing you want is to be on this journey alone. It gets difficult at times and you need to have people to consult and run ideas by and get advice from at a moments' notice. They actually lead you by the hand showing you step by step how to succeed in affiliate marketing.
---
I have been a member for 5 years and am now a mentor to new comers. I am offering free mentoring, no obligation (join here), but I will be there on standby whenever you need a helping hand. So you really have no excuse to not get started and see for yourself how you can create an incredibly liberating lifestyle for yourself.
---
Hopefully you'll take me up on my offer on becoming a successful affiliate marketer; again it is at no cost to you. There's nothing to lose and you have all the knowledge and wealth to gain. It will be life changing, try it out. See you inside.