*Since writing this review Zeek Rewards has been shut down by the SEC for fraud*
Victims (claimants) of the Zeek Rewards scam will be receiving distribution payments in 2014.
If you feel you have been a victim and had created an account at one point you may email:
claims@zeekrewardsreceivership.com – or visit  www.zeekrewardsreceivership.com – for more information.
---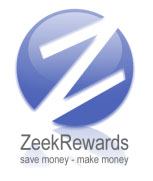 Zeek Rewards Review – SCAM ALERT!
Company Name: Zeek Rewards, also known as Zeekler.com – The Rex Venture Group

Updated Alert! Beware!
Direct Pay Biz (DirectPayBiz.mobilbo.zr) could be associated with Zeek Rewards. (See this review)
Website: www.zeekrewards.com & www.zeekler.com (no longer in service)
Price: Not applicable anymore
Owners: Paul Burks, Darryl Douglas, Alex deBrantes Paul Burks, Dawn Wright-Olivares

Final Verdict: TOTAL SCAM
---
Overview of Zeek Rewards
Zeek Rewards was based it's former existance on having their members earn rewards by purchasing different securities. Their business was relied heavily on having a large affiliate network which promoted these various programs for a commission. I'm not going to go into all the details here, but what it ultimately comes down to is that Zeek Rewards turned out to be a full blown internet Ponzi scheme (on of the largest ever in US history according to the US Attorney prosecuting the case).  
They were being investigated for multiple instances of fraud and complaints stemming from ethical issues. Official documents state that Zeek Rewards allegedly lured over 1 million investors amounting into a $600 million dollar Ponzi scheme.
When the SEC seized all company assets, these affiliates who had invested their money also lost their shirts, never to be recouped. So far only about $750,000 was liquidated to be distributed to claimants. So far there are roughly 177,000 claims they must make payments to. The officers of the company will plead guilty and indeed pay large settlements and fines to the SEC in the $10's of millions.
Interestingly back in 2012 this website ranked as one of the top 100 most popular in the world. Since there was ill intention from the beginning, it was only a matter of time before everything came crashing down. And yes that is exactly what has happened. Take a look at the Alexa website traffic count and how fast thing unraveled.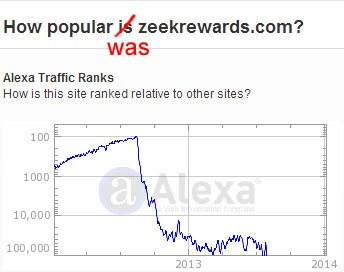 Pros & Cons of this Unfortunate Program
---
Pros:
– None Whatsoever: this company has been shut down and all the owners have plead guilty to federal  fraud charges
Cons:
– Zeek Rewrds being charged with securities and trust, wire-transfer and tax fraud.
– Scammed over 1 million people and stole over 600 million of their hard earned dollars
– Consumer advocate agencies like the BBB (rated F) and Ripoff Reports have documented many of the complaints.
– The company is no longer in operation (I guess this would be a PRO rather than a CON)
What did Zeek Rewards do anyway?
---
Well they were actually made up of two organizations, ZeekRewards.com (the affiliate marketing arm) and then there was Zeekler.com, the penny auction site. The scheme operated by the affiliates paying a fixed fee for the rights to promote and then made their money back plus profits by signing up other people under them. The money first went to the top people of this pyramid scheme and what was left trickled down to the newer members.
Many of the people joining didn't fully comprehend how the whole thing worked and got in passed on the hype and false promotions I presume. A huge group of folks (close to a million) were fooled into paying to join. By the way, anytime you have to pay upfront to promote something, chances are, it's a pyramid scheme. At first nobody was really questioning how valid the actual securities being sold were. The founders leveraged their marketing tactics to make everyone believe that Zeek Rewards was the next big thing, and created a huge exodus of unknowing victims that followed them into ruin.
Where did all those Zeek Rewards folks go…
---
When the SEC pulled the plug it sent massive headlines through the media and many of lives were destroyed. A large number of people invested a lot of money and planned their whole businesses around the Zeek Reward platform. Just like all Ponzi schemes (remember Bernie Madoff) it was reliant on new members from the lower tiers to be the bread winners for the upper tiers and sure enough it was inevitable that a collapse would ensue.
The sad thing is that after a huge scam like this is exposed the owners and everyone knowingly should be punished in a way that will never allow this to ever happen again. But unfortunately the masterminds of schemes like this and the other "higher-ups" just move on to the next best thing after paying some fines. They have probably hidden all the profits so in essence were not really that affected by the shutdown because they will just create another one.
I mean can you imagine, even after all of the unscrupulous officers of this company were convicted they were still denying it till their last breath that it was a scheme. Just because they were earning money, it was legit. The thing is these types of events will keep repeating themselves people of this nature move on to the next. Once people become possessed with making money this way it is hard to stop them from popping up again and again.
So where are they now…
Well like I said, they find new programs with the same characteristics or create a slightly different version with an updated façade. Although this scam targeted affiliate marketers and the MLM community there are many programs out there structured similarly to watch out for. Thinking these are real opportunities will only make you a victim.
What to watch out for next time?
---
First of all, your gut instinct is probably the best judge of all. If something just doesn't feel right do some investigative work before signing up. Read reviews, see if anybody has reported them as being a scam and check the forums, heck just search in Google…"is 'such & such company' a scam?" Your instincts are usually right when it comes to things like this. There are many scams still out there so be weary (read about the biggest ones found in the header above this article titled "The Bad")
If the company can't describe in detail how the entire system works or changes their wording along the way, for instance Zeek Rewards started removing the words investment and ROI from their websites while it was still in business. Suspicious activity is a red flag, especially not getting straight answers to your inquiries, if they don't return emails etc. These are all clues the something is fishy.
My Final Verdict
---
When looking into a company you should definitely not immediately find a hint of negative news or reviews. They especially shouldn't be being investigated by the SEC, that's for sure. After the SEC closed up shop for Zeek Rewards and company the internet is definitely a safer place.
But keep in mind those that were involves in this big scam are still out there promoting the next big thing, so still please check back to this site often for updates and before joining or purchasing any internet related program. It would be wise to avoid anyone who has promoted Zeek Rewards in the past. Do not take their advice and DO NOT get tricked into what they are promoting.

Updated Alert! Beware! Direct Pay Biz (DirectPayBiz.mobilbo.zr) could be associated with Zeek Rewards. (See this review)
Facebook of Zeek Rewards has 2260 likes but don't be fooled….

The Securities and Exchange Commission shut down Zeek Rewards and parent company Rex Venture Group, determining that its principal, Paul R. Burks and associates, conducted a fraudulent Ponzi scheme.
If you feel you have been a victim and had created an account at one point you may email: claims@zeekrewardsreceivership.com for more information.
*If you have any further information on Zeek Rewards or if you have been taken advantage by this Ponzi scheme please share with us below. Anything about your experience could help prevent others from getting ripped off in the future. Thanks and…