So you want to live the blogger lifestyle? Some really good reasons why this could be your calling is:
1) you love writing, sharing and being sociable
2) you want to spend more time with family, friends, without having to answer to anyone
3) you enjoy being free, doing what you want; when you want
which brings me to…
4) becoming financially free. Read on to see how bloggers are making it happen and living the dream.
How easily this is accomplished really depends on how much you like to write.  People may think all you have to do is create a blog and you'll start making money and possibly even get famous. Well, anything is possible but let's start off at a nice slow pace before we get ahead of ourselves. 
Start Blog Free and Make Money
---
As you may know by now a blog is no different than a free website that automatically posts all of your article entries on the home page, which is called a blog roll. Most blogging platforms and website builder services are free, but keep in mind you will not own the website if you choose to use these types of companies.
Most professional bloggers end up buying their own domain names, because as they start earning good incomes they want to be in full control of their websites. I'll get into this shortly. Let's get back to the fun part. So what better way to make some extra money than by writing about something you know about or are passionate about?
Starting a Blog for Profit?
---
If you're not sure what the process is to make money online with your own blog, you'll find out by the end of this article I promise. I'll be pointing you in the direction of some great free resources to get you going. First decide what you want your blog to be about. In other words, what are you an expert in or know enough about a subject to write about it?
Bloggers write about something that interests them, something they know about and that others find interesting as well. What's important is that you pick a general subject for your blog that you can consistently write posts for on topics that you won't get tired of writing about.
You don't need your own product to sell online. You will be an affiliate that sends people to the website that sells the products, and for sending them over they will pay you a commission. You will get a custom link that you'll use on your site which identifies the visitor as coming from your site. You will then get paid a commission should that visitor end up purchasing from the site you recommended that they visit.
There are affiliate programs and products to sell no matter what niche you choose. Believe me. If you are not familiar with what affiliate programs are and how bloggers use them to make money, then before reading on click below to watch the video (when at their site scroll down to view video). Watch more video lessons there, just use their search function.
Then its time to find products/services that relate to that topic. You can write reviews or opinions on certain products or books, etc. Well the possibility is really endless with what you can sell and like I said you don't need a physical product of your own to sell, just a product or service to tie in with your article topic.
For example, you could write an article about how you tried a certain diet and how well it worked, then find a digital book relating to dieting to recommend. To find this product you could type into google: "dieting books + affiliate program". You will be surprised how many products there are for you to promote.
Traffic = Money
---
The trick to making money is getting traffic to your blog. Luckily you don't need expensive Search Engine Optimization (SEO) companies since Google changed their algorithm. The trick to getting traffic to your blog is writing a lot. Because every article you write will get indexed into the search engines allowing people to find your site. Think of each blog post as a fishing net to pull in a pool of fresh fish (readers).

Google likes sites that use WordPress because they are easy to crawl and they like websites that are updated with new quality content often. The more you write, the more your site gets crawled by search engines, and the more times your article will appear in the search results.
Choosing the Right Blog Post Titles
---
The title you select for your blog post is important because it will contain the keywords that search engines like Google and Bing will use to list you in the results. You want to find phrases that have good amounts of monthly traffic and at the same time have a small amount of related sites, low competition.
The more people that visit your site, the higher the chances are that they will click on your links to products which contain your identifier given by the affiliate program provider.
If they end up buying something after clicking over from your blog you will get paid a commission, simple as that.
But How Do I Know What People Are Searching For?
---
That's where blogging tools come into play. One of which is a keyword tool that shows how many people have entered a certain phrase per month into the search engines. In my experience, using Jaaxy is the most accurate because it pulls results from all the search engines, not just Google.
Just type in a few keywords or a short phrase to see how many people have searched for exactly what you've typed in. I don't want to get into all the details here. There is a video explaining perfectly how to do this here.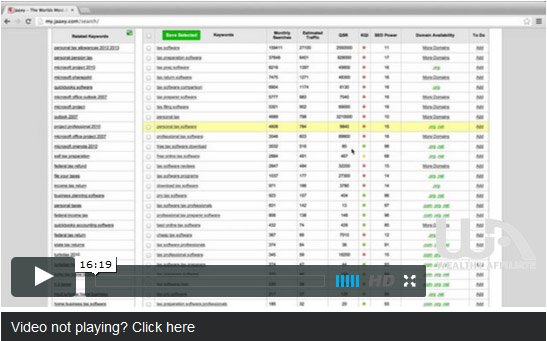 You can also try the software for yourself free below. You get 30 free searches to try it out.

Check out this video to see it in action. (Just click on "Learn About Enterprise!" at the top of their home page)
Why You Should Own Your Own Domain Name?
---
When you start getting a lot of traffic and a following, the last thing you want to happen is to have your website go down. Ultimately, you don't own your site or content when blogging on platforms such as blogger or Wix. If you blog for a living and if their websites get hacked or are out of service for any reason, their incomes could be lost overnight.
There could be a number of reasons this could happen. For one, the blogging platform could crash, change of ownership, they could even go out of business. Some platforms don't allow certain ads and links so if they were to ban this function you would also loose you revenue stream, not to mention all the time and hard work it took to get ranked in the search engines.
The cheapest and most reliable domain name company that we recommend is NameCheap. Don't hassle with all the up-sells and confusing pricing with the other companies.
Watch Step-by-Step Tutorials of How It All Works
---
Of course, more detailed instruction is in order if you really are into starting a blog for profit. This is needed to fully explain all the steps to start earning an income online. If you are interested in learning more you can find all the resources you'll ever need by checking out my top recommended online affiliate community that teaches the concepts to just start blog free and make money better than any other and its free to join. If you have any questions just join the discussion and chat with the people over there.
I've also done a full review of the Wealthy Affiliate here. Good luck getting started and I hope I've given you enough to take some action today.