I'd like to start this review off by saying what I've always said: You should never have to pay to take individual surveys online. And it is very rare to get invited to take enough surveys to make any real money. So I learned the hard-way that if you want to make decent money you need a system where you can sign-up to all the legit surveys in one place. Now I'm going to answer your question…
Is Get Cash For Surveys a scam?
The answer is a simple No. It is 100% safe. The reason it's legit is…
GetCashForSurveys is more of a software, a sort of compilation of survey and market research panels/poll companies that have been integrated into an intuitive easy to use directory like interface that pulls all these companies together for easy access in one place.
In essence, the're providing you with a service for a one-time fee so that you don't have to keep getting frustrated when looking for legit online survey companies or waste any more time separately logging in one-by-one each time, checking if you have any survey invites.
---
Get Cash for Surveys Review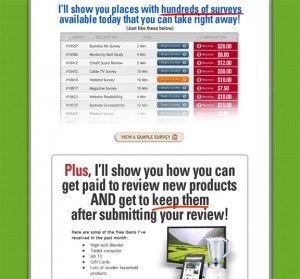 Company Name: Get Cash for Surveys
Website: http://www.getcashforsurveys.com
Price: $74
($37) ($27) ($12) *These discounts are available with above link
Rating: LEGIT
---
Don't Believe the Hype
This recommendation comes with a caveat. As long as you know that you will not be making tons of money and are not looking to get rich taking surveys, then it is possible to use this as a sort of hobby that earns you a some side cash. Although it does teach you how and where to take online surveys for real cash, I will admit they do use some bold statements that seem far-fetched as far as earnings potential goes, at least in my opinion.
I have yet to see anyone prove to me that they have actually pulled in thousands per month, so please do take their sales pitch with a grain of salt. But then again some survey companies don't pay at all and only enter you into drawings to win gifts. There are a few companies in there like that too, so don't be surprised when you get gift cards instead of actual cash. Just make a point to check how you'll be getting paid out before completing the survey.
Surveys Are Good for Killing Time
That's about it. Don't quit your day job, you won't be make a living doing surveys, I hate to break it to you. But if you like to do puzzles or play games online or just plain old pass time on the internet then possibly taking online surveys is for you.
There are companies that are free to sign up for that I've thoroughly researched and you may also read this review I did before deciding: "A List of Free to Join Legitimate Online Survey Companies".
How Much Can You Make?
Well there is not always a survey to take. Getting invited to surveys is not a sure thing and I cannot put an exact number on it.Well one survey site requires you to earn 1000 points which is equal to $100. One survey will give you 10 points. So you do the math. It is nothing spectacular, about a $1 a survey. It varies though, some days more & some less, like I said.
When signing up with the free survey companies you're going to want to register with as many of the legit ones that I've named in the above review or Get Cash for Surveys also has a few of my recommendations in it as well. The reason for this is that they do not invite you to that many surveys through email, maybe 3-5 a week, on average. You may not fully qualify for others. GetCashForSurveys makes getting surveys to take very convenient by creating a hub where there is one panel to see all offers and available surveys to take.
The research companies are looking for real opinions from certain types of consumers and you must fit the criteria for that surveys demographic. The more quality ones you sign up with the better, but if you decide to go searching on your own be careful out there, lots of scam survey companies don't pay. Most are just there to get your email, to then market other products to you.
They Offer Bonus Material

When you are signing up they will try to sell you other products too. Some are actually iteresting. For example, Get Paid to Ride (shows how you can make money by placing ads on your car), Get Paid To Write (they give you the best freelance writing websites where you can get paid for you writing skills), also Get Paid to Read Emails. Eventhough not necessary, these services combined with all the surveys should get you started making a little side income.
In closing…GetCashForSurvey is an alternative way of locating market research companies that pay for your time. I know I'm sick and tired of researching online to locate the "real" survey companies, if you are too then GetCashForSurveys can help. They have gathered all the companies for easy access to get going without wasting any more time researching. In a way they are managing all the surveys for companies that assign them to help with their research marketing. If you'd like to give a try at a discount click below and get the bonus material too.
60-Day–Cash-Back Guarantee
There is nothing to lose. If you are not impressed with what you get just return it and they'll refund your money within 48 hours. I would never recommend a company that puts my readers' money at risk, so you can rest assured. They use the most reliable 3rd party payment company so if you are not happy, your guaranteed full refund will be processed the same day.
Ultimately, it just depends on what you're looking to do and how serious you are about making good money online. It comes down to your personal situation and how much time you have on your hands, which leads me to my next suggestion that's also worth a try.
The Other Opportunity
If you want to start making hundreds of dollars online for your time instead of the small payouts from surveys then read my review on the top recommended solution here. (Hint: it is the most helpful online community anywhere)
This way you can not only be a little bit social online but make money while actually having fun. This is the same community that helped me to make a serious 2nd residual income online. P.S. No need to do sureys anymore.
*Let me know what you decide in the comments or if you've tried Get Cash for Surveys please give us your take. Good luck.
Reviewed by: Lev