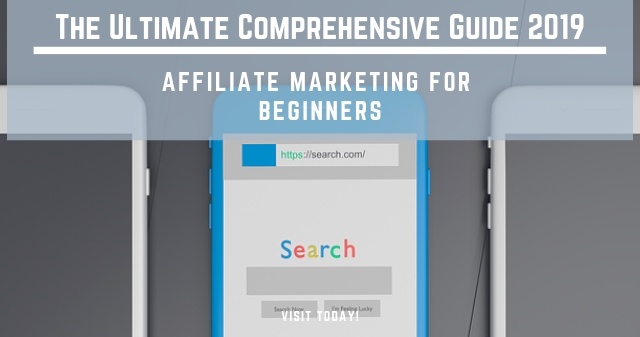 Learn and Start Affiliate Marketing: All for Free
To get started with affiliate marketing as a beginner, and learn the basics fast, you'll need to acquire some simple web skills and the right mindset. Here are some of the specific areas you will be focusing on in order to become a successful affiliate marketer:
writing blog posts on topics you enjoy and that are helpful to others
using social media accounts to share your thoughts & recommendations
performing keyword research to know what people are searching for online
join affiliate programs that have products/services related to your genre (niche)
do reviews on relevant products/services you've used or have researched
recommend these products/service within your posts w/ affiliate link
your followers/readers click on the links in posts that you share
you're paid a nice commission when they purchase the recommended product/service
you get rewarded for helping people with what they were looking for; so it's a win, win!
Note: There are other ways to do affiliate marketing without a website, but these are not for beginners and require large advertising budgets and purchases of certain software. Here we are only focusing on free techniques and strategies.
Affiliate Marketing Mindset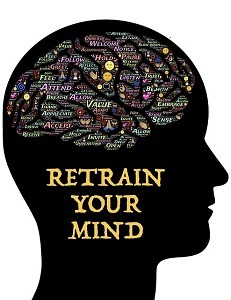 help others first and you'll be rewarded later
you're basically helping others solve their problems/issues
take your time, be thorough. Don't be in a rush to make money
consistently add content and share what you know or have learned
be yourself and stay true to your beliefs
choose a niche that you are truly interested in and won't get bored with
give people the information that they are searching for
be patient, allow yourself time to succeed
be disciplined, use time management when working
treat this like a real business, be serious about your success
This all becomes second nature in no time and especially when you see your first earnings roll in, you'll be so excited to do even more. The sky truly is the limit with how much you can earn.
If you're reading this right now then you've come to the right conclusion; that yes, affiliate marketing is the favorable form of marketing by far and the best way to not only earn a substantial passive income online (keyword is "passive", which we'll get into later); but also build a lasting full-fledged successful online business.
So congrats on pursuing affiliate marketing out of all the other legitimate (and not so legit) online business models you've likely come across lately. Now that you're here, surely all the google searches and YouTube binge watching was worth it. Most likely you've found yourself contemplating which route is the best to take out of all those "so-called" ways to earn money online.
Why Affiliate Marketing is the Best
Affiliate marketing is the best online business model because it requires the least amount of capital outlay and there is little to no overhead. Another fantastic benefit is, you won't be risking anything to get started. The absolute best reason to become an affiliate marketer is that once you create your business by putting in the work upfront, you'll be earning residual income on autopilot for as long as you maintain it with minimal effort.
I have sites that I haven't touched for over 6 months that are still earning consistent monthly income. That is truly the definition of passive income and again this is exactly why affiliate marketing is the best business model around. And will be for years to come.
Benefits of Affiliate Marketing for the Affiliate
Business expenses are minimal (in most cases under $100 per year)
No logistics, shipping, returns/refunds, customer support issues to deal with
No need for merchant services, billing, or accounting
Affiliate programs are free to join
Millions of products/services to promote
No need to spend on online advertising
Get paid recurring commissions monthly (sometimes every two weeks)
Getting traffic (visitors) to your pages and offers is completely free
Ability to work from home or from any location on your laptop
Decide when and how much to work (minimal hours per week)
Will see 4-5 figure monthly income within 6 months to a 1 year time-frame
No limit to how much passive income you can earn
Easily and highly scalable, consistently grow business
Business can be sold at high valuation (six and seven figures)
For all the following reasons affiliate marketing is better than a drop-shipping business, running an e-commerce site, and Amazon FBA (not the same as Amazon Associates which you can be an affiliate for, discussed below). All of these business models come with huge costs, large investments upfront, and a ton of risk. And you'll need to do a lot of advertising to get any sales.
Best Way to Learn Affiliate Marketing
Besides getting great training (my recommendation is below), in order to learn how to do affiliate marketing the best way possible, you're going to need to surround yourself with like-minded people with the same goals as yourself (those who have already started and are just starting an affiliate marketing business).
You'll also need to have experienced marketers at your side to get advice and ideas from. Being able to ask questions about anything whenever you get stuck is priceless. And last but not least, if you are serious you're going to want an affiliate mentor (I offer this service free of charge) that can hold you accountable and motivate you to keep meeting your goals and accomplishing your tasks as you build your business.
Where to Start Affiliate Marketing
How to Get Into Affiliate Marketing
When getting into affiliate marketing, learning does not have to be a nerve racking, complicated process. As you'll see it is actually quite intuitive and can be an enjoyable, fulfilling undertaking. It may seem intimidating at first, but by following practical small steps and visually seeing examples of how everything fits together you can overcome your doubts.
To have everything that you'll ever need in one place when starting you should join an online community that is specifically focused on ONLY affiliate marketing, NOT internet marketing, digital marketing, social media marketing or any other type of marketing for that matter, nor other online business related opportunities. Stay focused. Purely by affiliate marketers, for affiliate marketers.
Step by Step Affiliate Marketing Training
You will need to have video lessons that are literally step by step on screen instructions, from start to finish all the way up until you earn your first dollar. The best online training course for this also has a flourishing community that keeps you motivated and the entire platform ready to launch your online business in one place. I only recommend this free affiliate marketing community with training included to first timers. They also gave me my start in all of this. The training is amazing.
The community atmosphere is full of encouragement and motivation by other members and expert affiliate marketers are there to answer questions almost instantly with the 24/7 chat feature. You can post a question to the entire community and you're allowed to engage with other members one on one privately.
There is only one place online that this is possible, where they offer everything in one place so that you'll be free of distractions when building your business.
Their free 10-lessons video course includes clear concise tasks that are tracked to show your progress and over the shoulder videos showing the exact steps in detail of how to get up and running in the shortest time possible.
(*click over to WA to watch all 10 videos from the free course below)
Reminder: Like I stated before, one important factor, if not the most important factor for success is having an affiliate mentor along with a peer group that will help you along the way if you ever get hung up, and them being accessible daily. Read below and join the free community of thousands marketers all helping each other to become financially free.
Is Affiliate Marketing Worth It
How Long Does It Take to Make Money with Affiliate Marketing
Affiliate marketing is totally worth it beyond your wildest dreams. How much is total financial freedom and the ability to live life on your terms worth to you? It's priceless.
As a beginner affiliate marketer, you really have to prepare mentally before you start learning. Tell yourself repeatedly that "I have to get past the 6-month mark". Go on… say it out loud with conviction. Be convincing. Because this is the least amount of time it will take to really see your efforts materialize with a deposit in your bank account.
In order to be or become a successful affiliate marketer, you must stick to it. Most people don't push past the difficulty of creating content, sharing socially, etc. without seeing any sales. I can't repeat myself enough: you MUST give yourself enough time to become successful, period.
Is Affiliate Marketing Difficult?
Why Is Affiliate Marketing So Hard
The hardest part is working through the set-up phase of your online business while not earning a dime.
Most people quit within the first few months because they have not seen any increase in traffic, clicks/conversions or commissions roll in yet.
They think it's because they have not mastered SEO (search engine optimization), which couldn't be further from the truth. Actually this a major myth in this industry. There's no need to learn a whole extra skill set. SEO is built in to WordPress websites and Google will find your site regardless. You just need to know how to format your content correctly (which you'll be leaning), that's all. And there's also no need to worry about getting backlinks to your site; these are old strategies. Just focus on providing quality, helpful info on your site.
It takes time for the search engines to find your site and rank you for the keywords that you'll be targeting. But once you're showing up on the first or second page of Google and other search engines for the top keywords in your area of expertise, you're golden. Trust me, patience pays!
I always say, if they only knew that success was around the corner, would everyone quit so prematurely? It really is a shame that the failure rate is so high. Don't become one of those negative statistics. Just know that within the year you will make it (best case 6 months).
Does Affiliate Marketing Really Work
It works just like any other real business. With affiliate marketing you are investing your time rather than money. People are naturally skeptical, as I was too. The reason is, you aren't sure it's going to be worth the time it takes, coupled with the 'fear of the unknown' and not seeing results until months later.
You have to be laser focused on the end-goal: having automatic passive income rolling in every month without any extra hard work. The hard work is put in at the beginning and then all you have to do is maintenance work, which entails putting in maybe 8-10 hours a week. How does that sound? I know, it's hard to believe right now.
I mean think about it, you wouldn't just open up a shop and expect to turn a profit in the first 2-3 months now would you? Plus, by starting an online business you have very little overhead and almost no extra investment, so in a sense you're way ahead of any traditional business venture because you are not starting out with debt.
Now if you treat this venture like a real brick and mortar business, then in the back of your mind you will know that you're actually profiting already because you are not having to shell out thousands of dollars in start-up costs.
This way you will actually take your time, be thorough and thoughtful about what it is you are focusing on.
Can You Really Make Money with Affiliate Marketing?
Affiliate marketing does absolutely work and it has made hundreds of thousands (probably millions) of people well-off, including affording a very comfortable life for myself. Just a small statistic to show you how big the opportunity is. The affiliate marketing industry continues to boom and is expected to grow to $6.8 billion by 2020. (source: TradeDoubler)
How Much Do Bloggers Make
The minimum you'll be earning by the 6 month mark is at least $50 a day, at least that is the goal you are aiming for. I know it may not sound like much, but this is just the beginning. As you gain traction and your site begins to move up in the search engines, you'll begin to rank for exponentially more keywords. This means your income will exponentially be increasing as well.
Most affiliate marketers are easily making between $1,000 – $3,000 per month within their first year or if not, a little over a year, when done correctly. Of course, results vary depending on your work ethic, discipline, learning curve, etc. Not everyone works at the same pace. In this industry this on the low end.
Once you fully immerse yourselves in the training I mention here, just like the thousands upon thousands of affiliate marketers in the community, you'll eventually get to the next tier of earning $10,000 – $30,000+ per month. This is not an exaggeration.
Here is an updated breakdown with infographic I recently put together that shows the top earners: how much do bloggers make
As a Reminder: I'm just going to be straight with you here. After reading this you will need all the help you can get. Going it alone is not advised and it's highly probable that you'll end up failing and wasting valuable time in the process if you do.
Start Affiliate Marketing with No Money
Everything that you'll be doing to start and run your affiliate business requires no money upfront. Usually you would have costs for purchasing a domain name and hosting. But with the recommended training platform these are included at no cost to you. Plus, you are allowed two free websites with domain and hosting that are included.
– join a free active community that offers online training w/ website and hosting included
– you'll build a free affiliate website (blog) with free hosting
– choose a free WordPress template (theme) for your desired design
– decide on an area of expertise (choose a niche) that you'll be blogging (writing) about
– join relevant affiliate programs for free, get your custom affiliate links
– use free keyword research techniques to find phrases people are searching for to include in your blog
– continue to add pages and blog posts to your site on a consistent basis using these keywords in your title
– you'll be including your links within your content to products and/or services that you're recommending
How Does Affiliate Marketing Work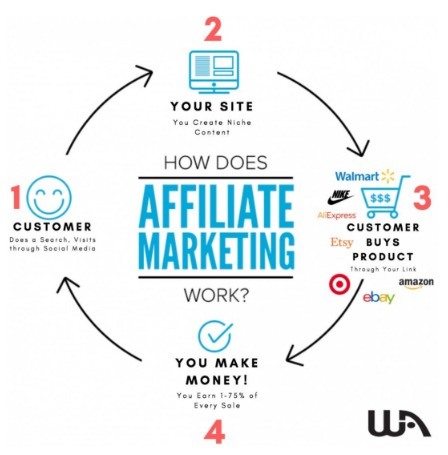 Affiliate marketing works by using current free online platforms, such as WordPress blogs and social media, to create a web presence around a niche topic or specific area of interest. By publishing (sharing) content posts targeting a specific audience or demographic, you can make recommendations for relevant products or services. By partnering with a vendor and joining their affiliate program you are given special links to use within your posts and social media accounts.
By giving your followers and readers useful info on what they were searching for on the web, you may then recommend them a helpful product/service by placing a visible link for them to click to purchase or sign-up with a promo code. If your reader ends up purchasing your recommended product or service, you'll be paid out a commission by the vendor. It's much easier than it sounds at first.
For example, when you make a sale you'll get paid a revenue share type of commission. So let's say hypothetically the product costs $100, typically commissions are high, somewhere around 40-50%. So your share would be $40 of the $100 for each sale that comes through your link. One of the most well-known affiliate programs is Amazon Associates. Yes, you can promote any product on amazon for a commission! But their commission rates are lower, between 5%-10%. You will be able to find many other quality affiliate programs that pay up to 80% commissions with a simple search. These are mostly for digital products, such as eBooks, training courses, and membership sites.
How to Find Affiliate Programs
Depending on your general niche you're going to want to find a few affiliate programs that you can join in order to serve your readers with specific offers related to the content material or subject that your article is about. You want to use your trusty friend Google (type in the search bar): related topic + affiliate program
Go through the first couple pages of results and choose one that is professional and carries a good selection of related products/services that you may end up creating content and recommending as you grow your website.

Example – Let's say your site is mostly about growing your own vegetables indoor. You might search something like this: indoor gardening + affiliate program OR homegrown vegetables + affiliate program.
By the way, you should also think about incorporating a digital product offering, not just physical products. Perhaps: how to grow vegetables indoors tutorial + affiliate program OR how to grow vegetables indoors tutorial + affiliate program.
Affiliate Marketing Programs for Beginners

ClickBank is the best vendor market place to join as a beginner and only offers digital products. You are automatically accepted and they do not review your site. Ebooks, guides, membership sites have some of the highest commission rates.

Amazon Associates is the most well-known and offers perhaps the largest affiliate program in the world. You will want to wait until you have your site up and running before applying because they give you 180 days to make 3 sales
There are plenty of affiliate networks or specific company affiliate programs that give you your affiliate links without reviewing your site, that you can sign up right away depending on the product/service you're looking to promote.
Making Sense of Affiliate Marketing
So here's the neat thing about selling anything on the internet. You never run out of customers. The more you can sell the more money you can make, obviously. So the faster you get started the faster you'll be making money, in theory. Okay results vary and depends on people's learning curve and obviously each individuals work ethic is different.
Soon you will be a full-time affiliate marketer. Again, the keyword here is 'affiliate'. There's also internet marketing and a bunch of other ways to create income online, but affiliate marketing requires the least amount of investment, and as you now know can be done for free. As an affiliate, what we do is market other peoples' products and services. When I say market, I mean subtly recommend within an article that you're writing while helping readers get the information they were looking for when typing in what it was they're looking for in the search engine.
You don't own any of the products or services, which is really great in a lot of ways. Since you don't have to touch or send a physical product there are absolutely no headaches. This means you don't have to design anything to sell. You don't have to come up with a concept, manufacture it, buy it wholesale, store it or distribute it, or do any of that which is required by some of these other business models.
Finding Affiliate Offers To Promote
The product or service you recommend can be something you've used in the past and would like to share with others, or something you've learned about that you know others would be interested in.
Most affiliate marketers write product reviews, then within the copy place links, which are given by the company (affiliate program), these are then used to track the customers who click over to the product site. When your reader clicks the link from your article or review, they are then taken to a page where they can make this purchase. If they go ahead and buy, you will receive a commission. Simple as that.
Some affiliate programs pay out over %50 commissions. So this can be a very lucrative full time business if you can generate enough traffic from your website/blog. I will get into how to do this below…but first you have to decide on a specific "niche" to target.
Find an Affiliate Marketing Niche
We all have interests, hobbies and things that we know enough about to write articles about. For example, if you know how to grow the best tomatoes, this literally could be your affiliate marketing"niche"! The more specific, the better. You would then build a small website focused on giving instructions on how to build a garden, how to plant the seeds, etc… and within these articles you could recommend the tools and products use used to build your garden.
(Click below to go to the article that has the video on choosing your affiliate niche)
Setting Up An Affiliate Marketing Website
There really is no way around this and it's no longer as hard as people think to set up a business; and yes, by this I mean a website. Nowadays luckily there is a platform called WordPress which allows you to build a website practically as easy as logging into your e-mail and composing a message to send.
VIDEO: How to Create An Affiliate Website In Less Than A Minute
(click below to watch the video lesson)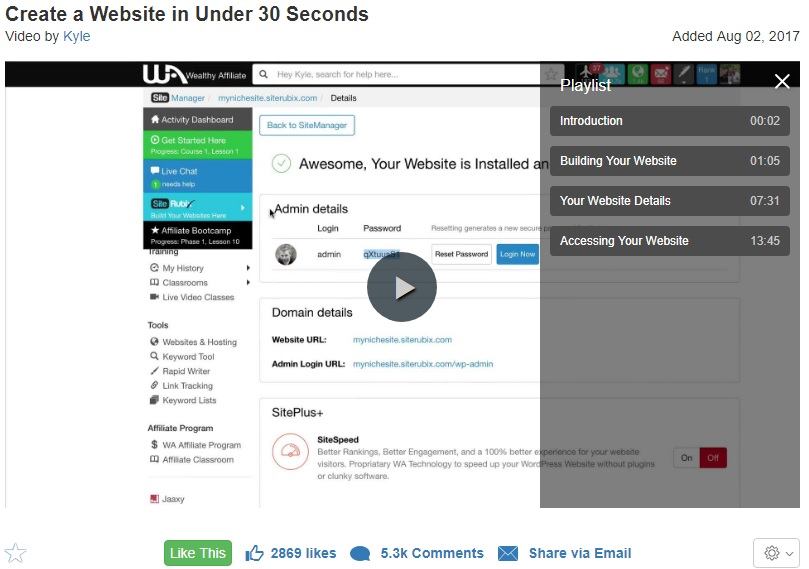 There is additional information in this article as well: create free website for affiliate marketing
People may try to do affiliate marketing without a website using social media, but all eventually fail because it is difficult to get followers and it looks like spam when you post offers. Facebook and the rest frown upon this method and have begun shutting down such accounts.
The thing that most fail to realize when getting into affiliate marketing is that you first need to provide helpful content to people that are searching for certain answers online and these are people that share a similar interest with you, hence your "niche". This leads me to my second foundation.
Content is King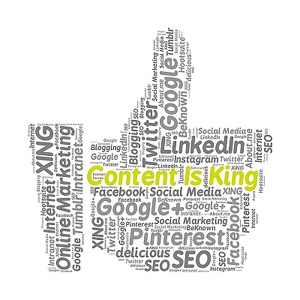 After you have a website, the next step is to create quality original blog posts. This is how you will be attracting traffic (visitors) to your site when the search results in Google or Yahoo display your site. Google loves original quality content and will reward your website higher up in the search engine results. The search engines also like sites that are built with WordPress because they are Search Engine Optimization (SEO) friendly, which makes it easy for them to crawl and index.
Content can also come in the form of comments left below your article, videos you can embed from YouTube and even audio. Visitors and the search engines like content rich websites. This will help reader engagement and once your readers trust you, they will take heed of your recommendations.
If you're not too crazy about writing articles or are short on time, you can also order original content from writers who customize the articles to your liking. Freelancers and companies provide these services.
Getting Traffic to Your Affiliate Site
This is the fun part. Now once you have your foundations in place, you will need to get the "eye-balls" to your site. So how do we do this. This can be done a number of ways, but the most important way is through your content. The more content you write, the more chances people will have to find you in the search engines organically. This way you will not have to pay for advertising to get traffic.
Google and other search prefer to rank sites higher in the search results that consistently publish content and keep their sites updated and active. Try not to let you site get stagnant.
Where to Sign Up for Affiliate Marketing
I learned everything I know about affiliate marketing from WA Online Community. I joined for free 6 years ago and haven't left since. I cherish my membership and interacting with the community there because everyone keeps each other motivated and WA has given me all the knowledge and tools to become financially free. You can head over there with the above link and join for free.
Of course, at first you need to be dedicated to learning the skills and setting up your affiliate business. But once it gets traction, you literally only need to add content once or twice a week as maintenance. The more you add and the more you do, your earnings will go up accordingly, so it's all up to you. The sky is the limit.
Conclusion
What I love about affiliate marketing is that it's the quickest way to sell products to people all over the world, right now more than any other way. I believe television used to be that way, newspapers, magazines, catalogues, etc. It was very expensive to produce ads and commercials to acquire customers, but now we have the internet and all the tools are at our fingertips.
There really are no excuses to not get started learning today. You're the only one to blame if you are not happy with your current situation. You are conquered half the battle already by getting online, now take it one step further and see how you can make life changing advances through doing affiliate marketing.
Look, when you start earning online, even if you don't make more than your current job, but about the same, you will have free time to do anything you want. To me that's priceless. Once you have this freedom you will be more picky about what your time is worth. I made a decision a while ago, once I found this industry and saw the light, I knew I'd never go back to anything else.
Set aside some of your time, then gather the know-how, and just do it! A little work upfront gave me an enormous amount of freedom and enough money coming in consistently to quit my analyst job. My dream came true this way and my aim is to help people realize theirs too.
So, if I've piqued your interest and you wish to take my advice on where to learn affiliate marketing, then this is the community and course (below) is for you. It is where I got my start and it gave me the motivation to make it all happen.
Best Affiliate Marketing Free Course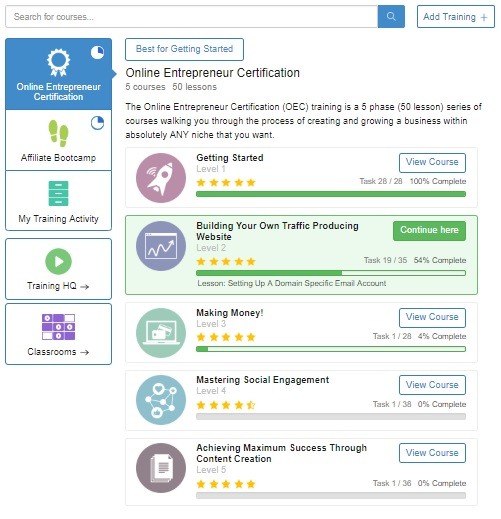 To get more FREE in-depth training on this subject and related topics, sign-up to the WA Online Community. As you know, they are currently my top recommended online training platform for learning affiliate marketing step by step.
They teach every aspect of affiliate marketing in a task-based, methodical way. Your progress is tracked and saved as you advance through each lesson and check of each task. The platform is well designed in a very clean and easy to follow format. You really have to see it for yourself.
For more on how to start affiliate marketing free…I've also done a full WA company review here, so you can get a more in depth account of all that they offer. Hopefully, this has been enlightening and will give you that extra push to take you to the next level in your development.