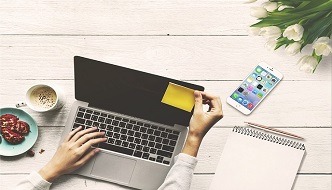 The best method to make money blogging is called affiliate marketing. There are only a couple of solid, tried and true ways to make money from blogging. One is by having ads on your site and the other is affiliate marketing. After setting up a blog, publishing posts often, and getting visitors, you may be tempted to put ads on your site to earn some income. This is typically not the best choice and isn't recommended early on due to the sheer amount of traffic you'll need to generate in order to see any worthwhile earnings from ad placements. Luckily there's affiliate marketing, a much more lucrative way to monetize your blog.
There are a couple of other ways to make money with your blog in this article – Make money without ads on your blog
Understanding these basic tips will help you see success as a blogger:
stick to one main subject area for your entire blog (niche site)

write lengthy, thorough posts about a relevant topic (over 1,000 words, preferably 2,000+)

work on your blog consistently (at least a couple times a week)
tie in offers for your recommended products/services from affiliate programs you've joined
Can you make money from blogging?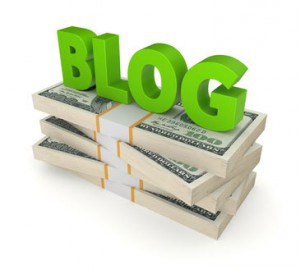 Absolutely yes. Experienced bloggers do very well for themselves and are paid-out on a weekly and monthly basis. A great number of bloggers are making six-figure yearly incomes just off of one blog. Many go on to create more blogs to multiply their earning exponentially. You can make a substantial amount from a blog. The quickest and best way that you can start earning money from a blog is through affiliate marketing.
Most people wonder how the bloggers are doing it. At some point you must have also asked yourself "do people really make money blogging"?I mean they couldn't just be writing a blog for fun…right? Definitely not. So now let's answer the question you really want to know…
How much money can you make from blogging?
Most full-time bloggers make well into the high 4-figures on a monthly basis and eventually go on to earn 5-figures per month. There are bloggers making in excess of $40,000 a month. Yes, month! Now these are not typical results obviously and it does take time to do these types of numbers. The norm is anywhere from $3,000-$5,000 per month.
This may not seem like a reality for you at this point, and you might be surprised at just how much bloggers are earning online, but at the same time, you probably don't need any convincing that you can surely make a great living online through blogging. Yet it's still nice to know what is truly possible, as far as earnings potential with your blog and just how easily you too can earn life changing money from blogging.
Believe it or not, it is pretty easy to create an online income from blogging once you understand the underlying concepts and the overall process. These basic principles are all you'll ever need actually, which we'll be getting into a quick little summary of them shortly.
This top recommended free resource (company review) makes the learning and doing process easy w/ it's all-in-one platform.
What should my blog be about?
It helps if the subjects you choose to revolve your blog around are things you take pride in, or have a keen interest in. This will help motivate you to keep writing and publish posts regularly, preferably multiple times a week. Your blog should be focusing in on a sub-topic within a topic. The more you can narrow it down into a specific subject matter, the better.
There's a little concept called the 'niche' (market) that you should understand first. It can spell the difference between success or failure during your affiliate marketing efforts when blogging.
For example, let's say you were really good at staying organized and you wanted to start a blog and share organization tips. Organization tips is a really broad topic, so instead you'd want to drill down and cover topics such as 'keeping your kitchen accessories organized'. It's not the best example, but hopefully you get the idea.
Clicking below will take you to a video showing you how to narrow down and select a niche to blog about…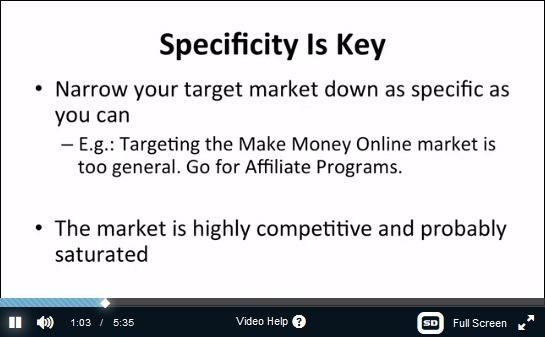 Note: Do not make the same mistake as most beginners do, which is to focus on promoting the 'Make money online' (MMO) niche. It is probably the most competitive and saturated genre, therefore you will have a very hard time ranking for keywords relating to this niche.
If you are not good at writing or you do not have the time this can be outsourced as well. But I think you can write 500 words about your given interest with no problems. It is important you choose a niche that you enjoy and won't easily get sick of writing about.
We all have something, at least one thing, we are good at or know a lot about, this could be a hobby or a past job we did. Basically the knowledge that you have about a certain topic or 'niche', can be your starting point for finding what it is that you will help people with.
Well, it all starts with helping people solve a problem and giving them the solution when they are looking for something online. This is usually information or a product. You need to put yourself in the mindset of helping people first. Ask yourself, "What will they type in Google to find what they are looking for". The phrases that people type in Google or Yahoo are called keywords. Try using my favorite keyword tool (it's free) to find out what the popular searches are and how many people are actually typing that particular phrase into Google/Bing/Yahoo per month.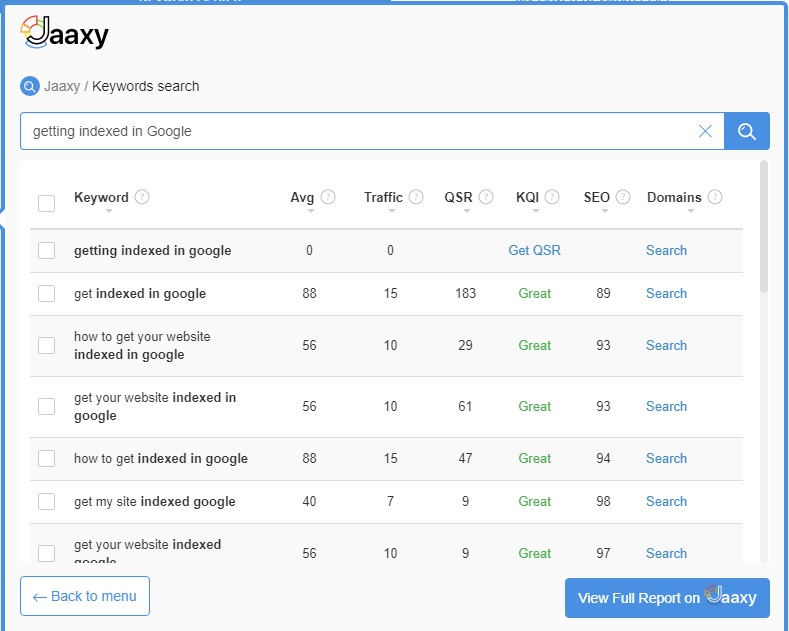 If a good amount of people are typing certain keywords in, then you would consider writing a blog post with that certain phrase in the title section. You would then write in a way that helps give your reader the answers they were looking for regarding that topic.
Let's take another example. Let's say you're into fishing. And you know a whole lot about this subject. You know you could explain the ins and outs about fishing, even just one aspect is enough to help someone out. Say after doing your research (using the keyword tool recommended above), you find that the keyword "best fishing line for bass" gets 128 searches per month. You would write a blog post on this topic.

Then you look for a certain product or service related to what you are trying to inform them about. Subtly recommend a product by inserting your affiliate link within a paragraph. For this example, you'd type in something like "fishing rods + affiliate program". Or Amazon.com has an affiliate program called Amazon Associates which you can join and link to the product you would recommend. Affiliate programs that you join will give you your own unique links with an identifier, that is how you will eventually get paid the commission when the vendor identifies that the customer came through your link.
Choose a niche for your blog
Your niche market is that specific segment of the market that you want to focus on. To find your niche, and one that is profitable in affiliate marketing, ask yourself these 3 questions:
1. What are your interests and hobbies? 
For you to do research and consistently write about a niche, you need to have a certain level of interest in it, or dare I say a passion for that specific topic.
Take a moment to seriously consider what things truly interest you. It can be something obvious, like a hobby or a current profession. Do you like to read books? Do you like visiting art museums? Do you go to a cross-fit gym? What industry do you work in? What do you know a good deal about?
Now as you go about your day, make a conscious effort to identify products or services that you need or use on a regular basis (or even just on occasion). Products that you use or reading materials like books and magazines can be a great source of inspiration for ideas and topics to write about. DIY tools, pet products, etc., things that you have experience in or problems that you have solved and would be helpful to people to share.
Can you think of a specific problem that you want to solve in your life that you think will also help other people? You don't need to be an expert on the topic. Your readers can share in your journey to discover answers to your problem.
Make a list of these interests and needs and narrow them down. It helps to keep in mind that you have to blog about the topic all the time.
2. What are other people's interests and needs?
To further help you zoom in on your niche, ask your friends and family what their interests and needs are. Inquire about the topics that they search about online.
What products have they ordered from Amazon? What services have they availed of online?
What topics do they search for on the internet? Have they tried Googling for answers to any particular problem or issue they have encountered in the past?
After you've compiled ideas from friends and family, compare them with your first list. Are there any overlaps? Are there things someone else is interested in that aren't on your list, but give you a spark of interest?
3. Do other people search for and buy these needs and interests online?
So you know what you and people close to you are interested in. But how about the world wide web? For a niche to be profitable, there has to be a market larger than just your family and friends.
An easy and very effective way to find out which among the things you are interested in will sell is by visiting online marketplaces themselves, like Amazon, eBay, ClickBank and others.
For example, if "pet supplies" is on your list, search for that keyword on Amazon.com. You'll get a lot of sub-categories (sub-niches). Explore those, read customer reviews, find out which are the best sellers.

It's not so much how often, but how consistently you add a new blog post. Google and other search engines prefer blogs that post often and regularly, when you do this they crawl your site more often increasing your ability to rank higher. If your blog is new you should be posting 2-3 blog posts a week until you atleast reach the 50 posts mark. Once you gain some traction in the search engine results pages (SERPs), you can drop it down to once a week.
It's more important to be blogging on a consistent schedule. So if its once every two weeks, thats fine but just do it in a consistent manner. Eventually posting to your blog a couple times or even once a month is enough to show the search engines your blog is active and deserving of being listed in the SERPs.
The thing is, in order to see any traffic (visitors) come in organically (for free) from the search engines, your posting schedule is going to need to be consistent. It is recommended to add new content to your blog 2-3 times a week. For search engines like Google to rank your blog, they also need to trust that your content will be high quality; meaning lengthy, thorough, and original. And to gain authority in your given area of expertise, you'll need to write naturally and not stuff your articles with the keywords you want to rank for. We'll get into how you can appease Google later on.
Get more traffic to blog
Here are some of the things you can do to make your blog post search engine optimized to get more traffic to your blog. If you do the following, it will make it easier to get more free traffic (organically) from the search engines:
Target long tail keywords. You have better chances of making it to Google's first page by using the keyword "puppy house training supplies", rather than "pet supplies."
Include keyword in title, but try to keep your title short (~60 characters only).
Mention your keyword, its synonyms and other related terms a few times in the article add use headings (H2, H3 tags). For example, "dog potty training supplies" "puppy housebreaking products", and so on.
Include at least one relevant outbound link to a related article on well-known website.
If possible, also include an internal link to one of your previous posts that might be related.
Longer articles have better chances of ranking high on Google, so make your article at least 1,000 – 2,500 words.
Include images with keywords in the alternate text (alt tags).
Embed related YouTube video.
Install an SEO plugin like Yoast or All In One SEO in WordPress.
These are just a few of the most important things you can implement to get more visitors to your blog. SEO can do wonders for your affiliate marketing blog if done right.
Increase blog traffic with SEO
For you to earn from your blog, you need traffic. Lots of traffic. A business establishment has a physical location that can't be manipulated to go where the customer foot traffic is.
But an online business has a virtual location on the world wide web that can be steered towards a position where customers will see it. This process of affecting the visibility of a website is called Search Engine Optimization or SEO.
There are other ways to increase your site's visibility, such as advertising on Google or Facebook, but we will focus our discussion on SEO for now.
Your most important source of visitor traffic are search engines. Visitors who land on your page by finding it through a search engine are classified as organic traffic.
This is why you want your blog to appear on the first page of Google, Bing, Yahoo, and other search engines when people do a search for specific keywords. A specific keyword under the pet supplies niche could be "puppy house training supplies."
How do you tell Google that your page is the best match to that keyword when someone searches for it? You do this by optimizing your blog content to make it "SEO friendly."
Earn money blogging on WordPress
1/3 of the entire internet is made up of WordPress websites, also called blogs. Now to say it's a popular blogging platform would be an understatement. It truly is the best, in order earn money with your blog because of its versatility and ability to add-on useful functions using "plugins". These plugins will be used to track your affiliate links and ad placements.
You probably found this article through a search engine and you'll be learning the same skills to get your blog on the 1st page of Google as well. Google loves WordPress sites. People often see bloggers on social media promoting their simple blogs and wonder, can I make money blogging on WordPress too?
You sure can, you're way ahead of the game before even starting if you like to write and share your passions. What could be better than getting paid for doing what you love anyway? Plus you get to help your readers out in the process. Talk about a win, win situation. The way to look at this endeavor is to treat blogging more like a side business rather than making some quick cash here and there.
WordPress has free ready-made website (blogs) templates to choose from, making design and layout a simple process. These are practically ready to go out of the box. You just need to fill them in with some content. It literally is that easy, and is kind of like writing an e-mail and attaching some pictures. Instead of clicking "send", you click "publish".
Here's another video showing just how easy it is to create your very own blog on WordPress.
"How to Make a Free Website (Blog) in Under 30 Seconds"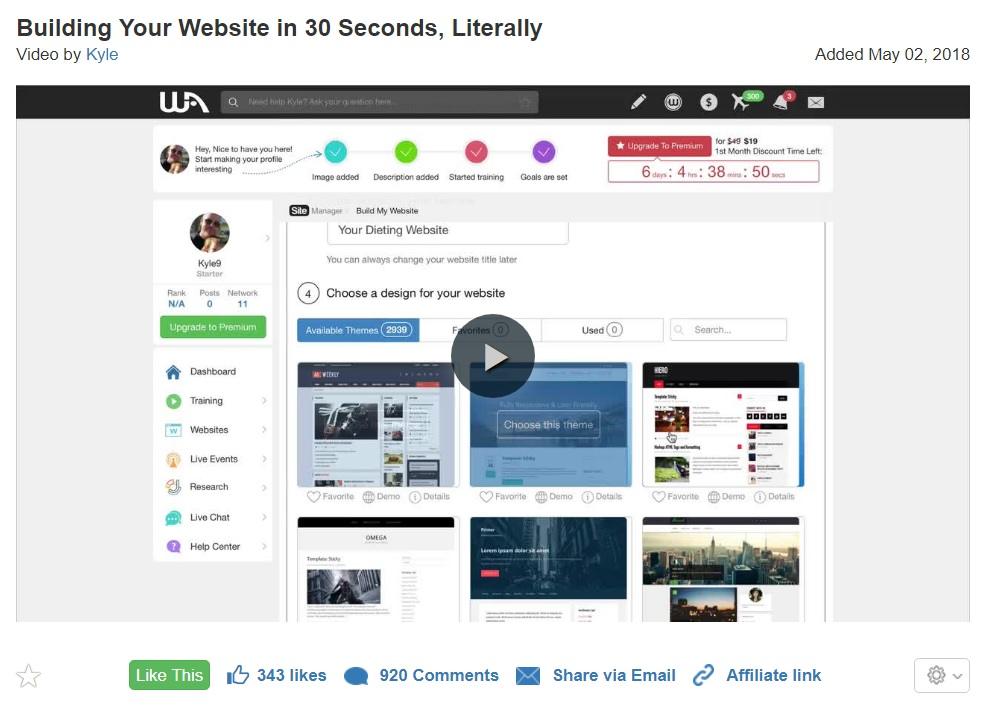 When was the last time you bought something online? What if I told you that you probably got to the product page from a link on someones blog. That someone inconspicuously recommended that product that you eventually ended up buying. Again, this is the art of affiliate marketing in action.
The majority of bloggers and affiliate marketers are making money online by promoting products and services subtly within their blog posts, just by placing a short text link. No flashing large banners or annoying ads are necessary at all. This is done by joining an affiliate program and becoming an affiliate of an online retailer that sells products/services that are going to be related to your blog. Affiliate programs are offered by all kinds of established companies. The biggest of which I'm sure you've heard of, Amazon.com
Affiliate marketing with a blog
If you're not yet familiar with affiliate marketing, you need to know that it is one of the most powerful and effective ways to make money online. Here's a great definition of what it actually is:
Affiliate Marketing is a type of performance-based marketing in which a business rewards affiliates for each visitor or customer brought by the affiliate's own marketing efforts. In this case our marketing effort is blogging.
In short, you get paid every time you refer one of your readers to a product through a custom link given to you to place on your blog. So within your blog post, you are going to promote a relevant product by recommending it to your readers and once they click on the link and purchase through the vendor; you get paid a commission. But should you just try and promote anything you like? Will it be profitable? The quick answer is No.
Why to use affiliate marketing
What's awesome about affiliate marketing is, you don't even need to have your own product or offer any service. There is an affiliate program for everything and anything you're interested in. Just type "(your interest) + affiliate program" in Google (as mentioned above) and you will be amazed at how many results come up.
One more example; let's say you're interest or hobby (something you know enough about to write a few articles on) is baseball. While you are writing about something baseball related, you would give a recommendation on a product you've tried, perhaps a baseball glove or cleats. The sporting goods affiliate program will have given you a link to put within this article to show people where they can by the glove or shoes you mentioned. Once your reader clicks on the link and they end up buying what you recommend you will get paid a commission.
Here's another helpful article:  how to add affiliate marketing to your blog
Depending on the affiliate program and the niche, you may earn anywhere between 3-5% all the way up to 50-75% in some cases. So basically within your articles (or blog posts), you will recommend certain helpful products to people and when they purchase you get a commission. Some commissions can be in the hundreds of dollars per sale depending on the product.
This is the basic step by step process you'll want to follow.
Successful Bloggers Stories
What do successful bloggers all have in common – they are a part of a community of like-minded blogging professionals that are active, sharing ideas and helping one another. It is best to always have people that you can instantly ask questions whenever you are not sure how to proceed. Having a mentor in one of these communities available to give you advice and ideas is invaluable. Not only that, you will earn your first dollar much quicker, up to 10x faster.
These bloggers in this community are making a killing. Click below to read their stories.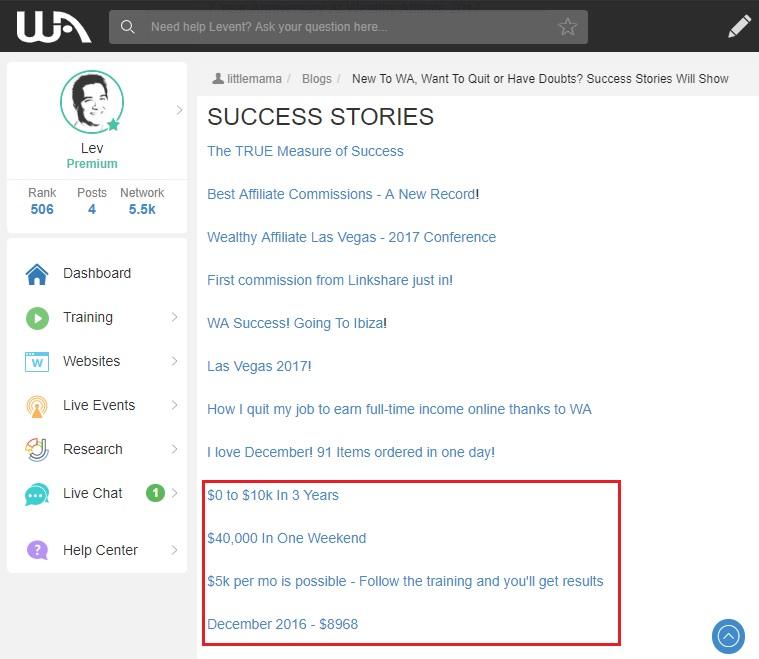 ---
Since I cannot cover all the steps here, head over to the best free online business training community and social platform to take the training courses there, they do a much better job explaining all the different ways to earn a living from blogging. They have absolutely everything you'll ever need to create online income generating blog.
It is a one-stop shop, literally. They have full in-depth lessons and successful veteran members also teach you the exact steps with over-the-shoulder training videos. This is the place where I started out learning as well. Another great site for blogging tips is backlinko.com
It is like a big family over there (kind of like the Facebook for bloggers and online marketers), so it is a very social atmosphere. Everyone is helping each other, "liking" each other's comments questions/answers, private messaging, chat, posting new ideas etc. But the main focus is their top notch training. I can't emphasize enough how helpful and easy to follow the courses and live video training sessions really are. Not to mention, you get unlimited hosting and blog templates all for free just for joining. So, hopefully this was helpful in answering your question, how can you make money from blogging.
From tips for absolute beginners to advanced knowledge for seasoned bloggers, WA has the most up to date information for bloggers from all walks of life. There's no reason why you should not benefit from the wealth of knowledge that these top bloggers have accumulated, especially because it's absolutely free to sign up (above).
You'll find everything you need to know about how to find a profitable niche. You'll learn about the tools of the trade, and even receive assistance setting up your blog. If you have additional questions about how to make money by blogging, or affiliate marketing and Wealthy Affiliate specifically, don't hesitate to drop me a line in the comments below.
There are no excuses…
---
Now that you have the answer to how can you make money from blogging, you have nothing to lose. Just join in, create your profile and introduce yourself to the community. Remember these people were once where you are now. They'll show you the ropes and are amazingly generous with their time because they remember what it felt like in the beginning. Start off watching some of the video lessons. Remember to connect and follow people. You can ask anything at anytime 24/7 in the live chat area. See you in there…