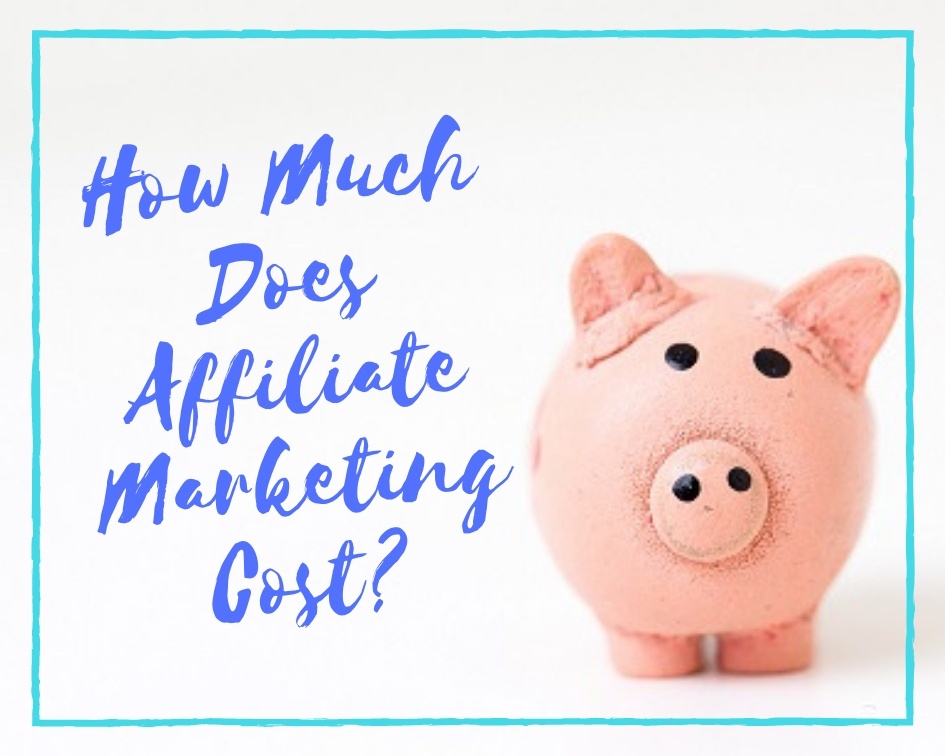 The methods and tools that most affiliate marketers are using to attract visitors to click on their promotions are usually all free. So lets get into some specifics on how much does affiliate marketing cost…
Affiliate Marketing definitely does not cost nearly as much as you might think and will not break the bank. There are no large investments or overhead necessary. You do not need to set a side a huge budget for ads or programs or anything like that.
Affiliate Marketing Startup Costs
---
Domain name / landing page: $10/year (*free with WA – see below)
Hosting: between $3-$10 per month (*free with WA – see below)
Affiliate programs: free to join
WordPress website platform: free (includes free templates)
WordPress plugins: free
Social media sites: free (used for promoting)
As you can see, an affiliate marketing online business can be started for less than $100/ per year.
Now you'll want to be careful about the hosting package and where you host your site because this does have an impact on how well your site will rank in the Google search engines. This is an important factor for bringing visitors to your offers.
Now what if I were to show you there's a way to do affiliate marketing completely for free. Free domain name and free hosting!"
You probably wouldn't believe me. Well I'll be showing you how in a moment. I'll also reveal an affiliate marketing training platform w/ community that is also included, at no cost to you.
Now let's also keep in mind that the best bloggers and site owners in the world are using free traffic generation methods, such as organic traffic from the search engines, utilizing content marketing, commenting in forums and Facebook groups, guest blog posting, social media, and there are other free methods that you'll be discovering.
Start an Affiliate Marketing Business for Free
---
Now in order to show up in the search results of any search engine (preferably on page 1), it goes without saying that you'll need a blog/ website in order to be successful with affiliate marketing. Any business, whether it be brick and mortar, needs a website; even if it's just for informational purposes. So if you want to be in business online or traditional business, you'll always need a website.
Therefore, your initial goal is to get a well designed website with quality hosting that Google will find and rank it for specific terms related to your affiliate business. The training I mention will get into what your affiliate business will be about and which niche you should go after.
Even if you are planning to do paid advertising (PPC) later, weather it be on Google AdSense, Bing, Yahoo or social media sites like Facebook, Twitter, Instagram, Pinterest, etc. you will still need a place (website or landing page) for people to visit once they click on your link.
---
This is where my claim that it can be totally free comes into play. Usually, there are only minor costs associated with affiliate marketing. There is little to no overhead. And absolutely no need for any large budget, investment, or inventory.
Click to use the FREE all-in-one services from WA / SiteRubix
When you sign-in, here is what you get absolutely free of charge (there's no catch):
2 separate WordPress websites (thousands of great templates to choose from)
Premium, top-of-the-line managed hosting w/ Secure Sockets Layer (SSL) server and SiteSpeed, Spam filter
Hundreds of free plugins including: seo, image optimizer, page builder, landing pages, ad inserter, email marketing (auto-responder, email capture pop-ups and widgets),etc.
Large active community of helpful affiliate marketers to ask ?'s, interact get advice and ideas from
24/7 technical support + live chat feature
Online Affiliate Marketing Training Course – 10 Lessons
Affiliate Bootcamp – 10 Lessons
Jaaxy Keyword Tool – 30 free searches ($19/mo. optional)
Tons of free training material, step-by-step video tutorials*No hassle. No obligation. No purchase necessary.
After all, starting an affiliate marketing business should definitely not affect anyone financially. Even the average person that has a normal day job can afford to get an online business up and running.
---
Here again are some of the costs to be expected if you were to go out and individually purchase each service on your own:
Domain Name – around $10 per year.
Regular Hosting – roughly $30 per month. (only 1 domain)
Premium Managed Hosting – roughly $130 per month.
Premium Theme – avg. $30 per month.
Email Marketing service provider – avg. $30 per month.
Keyword Tool – $100 per month
————————————————————————–
Total: $30 (on the low end) x 12 mo. = $360 + $10 domain = $370 per year
High-end Total: $290 x 12 mo. = $3,480 per year
Neither compares to $0 per year!
Now obviously there are even more expensive products and services out there for more experienced affiliate marketers, but they are definitely not necessary and are more of a novelty to have after you are earning good money online.
This fabulous article is a goldmine and goes into more specifics:
"The Cost of Starting and Running an Affiliate Marketing Business".
Just like with any business, you as the owner should always be looking to cut costs anywhere you can to maximize profits.
Lucky for you, the barrier for entry (cost wise) is very low for affiliate marketing. Actually it can be FREE if you go with my top recommended affiliate marketing website building & hosting platform WA + community + training and personal coaching
I know… it's almost too good to be true and honestly hard to believe that they're offering so much value and it costs you nothing.
They do also have a premium membership available, but again this is not necessary and can always be added later on when you gain experience and are making enough revenue to cover the costs. (again I want to remind you it is free to not only join, get your websites and the training to create an income generating online business).
Comparison of WA Free vs Premium Membership
---
Don't get me wrong, I am not trying to sell you on upgrading to premium, but this comparison chart shows you exactly what the differences are.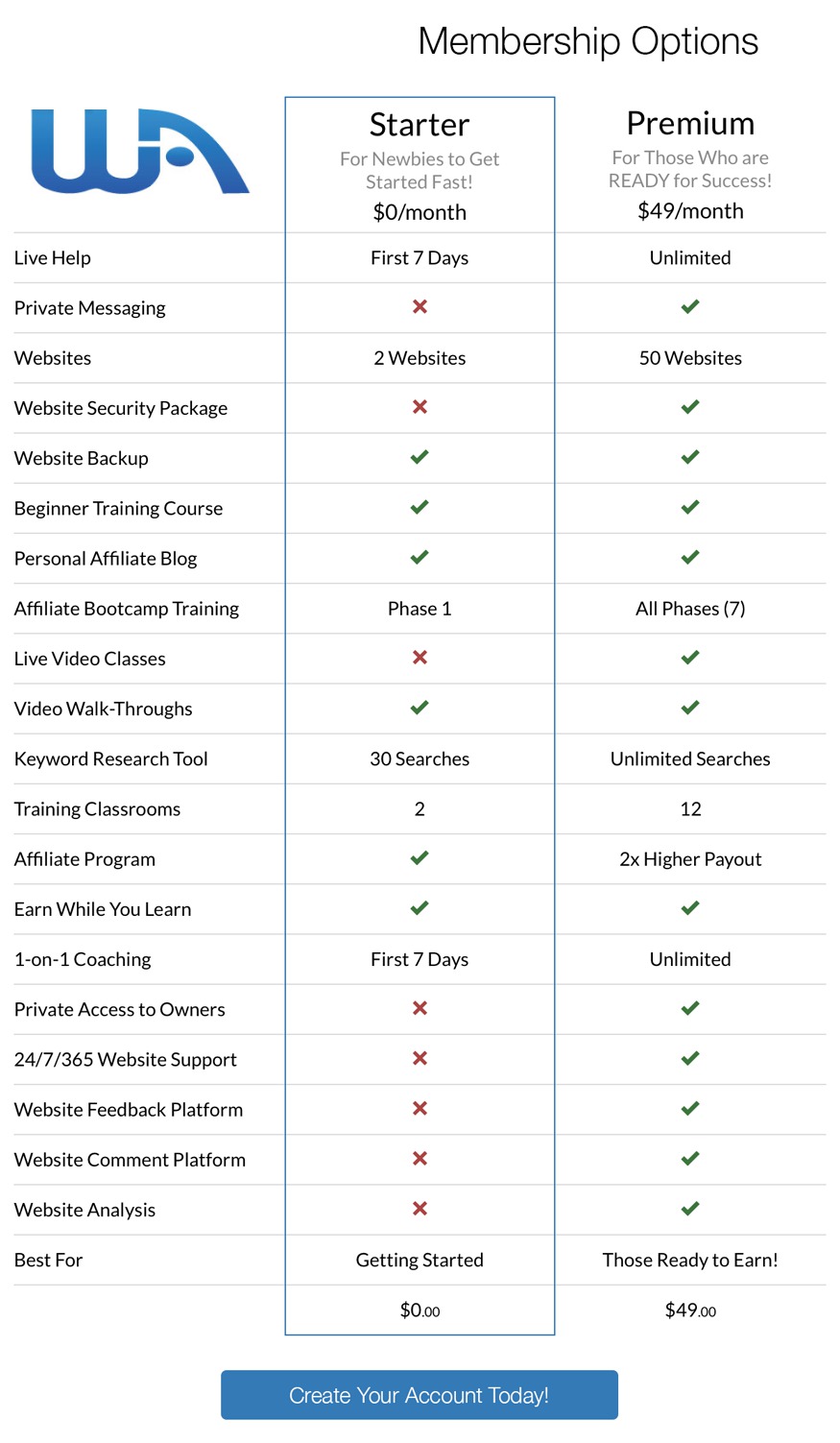 As you can see, the cost of starting an affiliate marketing business can either be $0 or $49.00 a month, depending on your level of experience and what your current needs are.
The quickest way in my opinion to gain financial freedom is to start your affiliate website for free and join the community of like-minded folks all on the best platform implementing the training and motivating each other.
It is very affordable even if you upgrade and want to have everything taken care of and even more features at you disposal. You can take your training to the next level to increase your ability to see even more income then you previously thought possible.
How Much Can I Earn from Affiliate Marketing?
---
The top-notch training that WA is famous for, is tried and true and all the methods and business models that they teach work very well. Three are thousands of high achieving members in the community making anywhere between $1,000 to $30,000+ per month putting the training in action and doing the work required to see exceptional results.
How Long Does It Take to Make Money with Affiliate Marketing?
---
You will not see overnight success due to a few factors.  One such reason is that it takes time for Google to recognize your website and affiliate business as trustworthy and begin to list your site in the search results.
One other factor is that your site needs to grow and be updated with new content on a regular basis. This is all covered in the training materials and videos but just to give you an idea, you'd want to add posts and pages ideally a few times a week to let Google and Bing to continually crawl your site and to keep you in good standing.
In order to really start seeing proper results and traffic = revenue to build it may take around the 6 month mark, for some it may take them a year to start making substantial incomes online. This depends mostly on how much time you can set aside and how consistently you work on your online business.
If you are disciplined you will make good money, in fact I mean real life changing money. But the trick is to stick with it long enough for the search engines to recognize all the quality work you put in to your site. So give yourself some time to be successful. Stick with it and it will be worth it. Patience pays, literally.
How to Get Started…
---
Now that the question of how much does affiliate marketing cost has been answered, there are no excuses.
All you need to get started in affiliate marketing is:
All you need is an email address and a password

WA does not even as you for any payment info to gain access to everything.
You can stay a free member for life.
There is no pressure to upgrade and you still are able to take advantage of everything yo need to continue to run a successful affiliate marketing business and website.
You may read the full company review on WA here, and see why it is my top recommended program/platform.
Hopefully, seeing a break-down of the affiliate marketing startup costs was eye-opening experience, especially with the WA deal above.  There truly is nothing else like it anywhere online. There are platforms that charge upwards $100 a month and some even more, yet these don't include quality hosting and all the courses and training; let alone the priceless knowledge you can gain form experienced members in the community.