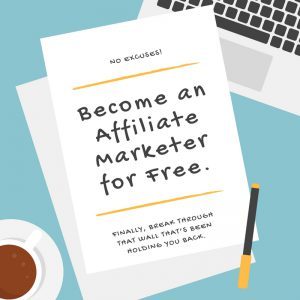 Today I'll be outlining actionable tips for you to become successful with affiliate marketing right away. Believe it or not, the advice that I'm about to share, if acted upon, can finally lead you to break through whatever's been holding you back.
You have no more excuses left because it's free to learn and implement. Again, this is for anyone wondering how to become an affiliate marketer for free.
How Do I Become an Affiliate Marketer
---
Start Doing These 3 Things Today
…and you'll be getting results towards becoming an affiliate marketer w/ future online earnings much more quickly.
To create an affiliate marketing business you're going to need your own domain name and social media accounts. This is not a one off campaign. Campaigns die off, while real online businesses thrive. Also, you'll need to pick a topic (niche) that interests you.
Promote/recommend other people's products/services. You don't need inventory or your own product. Join affiliate programs in your given area of expertise. Create related blog articles around topics people would be searching for in Google. Share these articles on social media.
Getting people from an ad to a landing page to an offer is one way to get started. Expensive strategies like this work but there are little tweaks that are needed. I suggest getting free organic traffic from the search engines, done by creating articles with good titles (high traffic, low competition keyword selection is key –

I did a review on the keyword tool I can't live without

).
Not being profitable with other online business models yet or not earning as much as you'd have hoped, means that you're not getting the results you should have been by now. Or you're spending way too much on learning with little doing. If you haven't earned a dime online yet, let's get into why this could be happening to you.
Become an Affiliate Marketer for Free
---
There's a lot fluff and misinformation online (especially in the 'make money online' arena) along with those claiming to be making a lot of money off of this internet marketing stuff. The problem is they don't really have proof to back it up. Below I will show you examples (at the bottom of this article), living proof of those who have been wildly successful and what they've done to get there.
My lifestyle as an affiliate marketer for over five years now affords me the ability to create an income almost at will. You see, the fact that you're reading this right now is in a way proof that I can pretty much put whatever message I want in front of anyone who I think would benefit. With this comes great power and you can bet those that can do this are being monetarily compensated; handsomely I might add. You can also be one of us. I'm no different than you.
And this my friends is what the general concept of affiliate marketing comes down to. Share some helpful information online and get monetarily rewarded. Find what people are searching for, what problems do they need help solving and give them the answers they seek. Simple as that. Let's dive in a little deeper into what I'm trying to convey with some real world application.
The most successful affiliate marketers have attested to the fact that joining this FREE online training community (below), has changed their lives."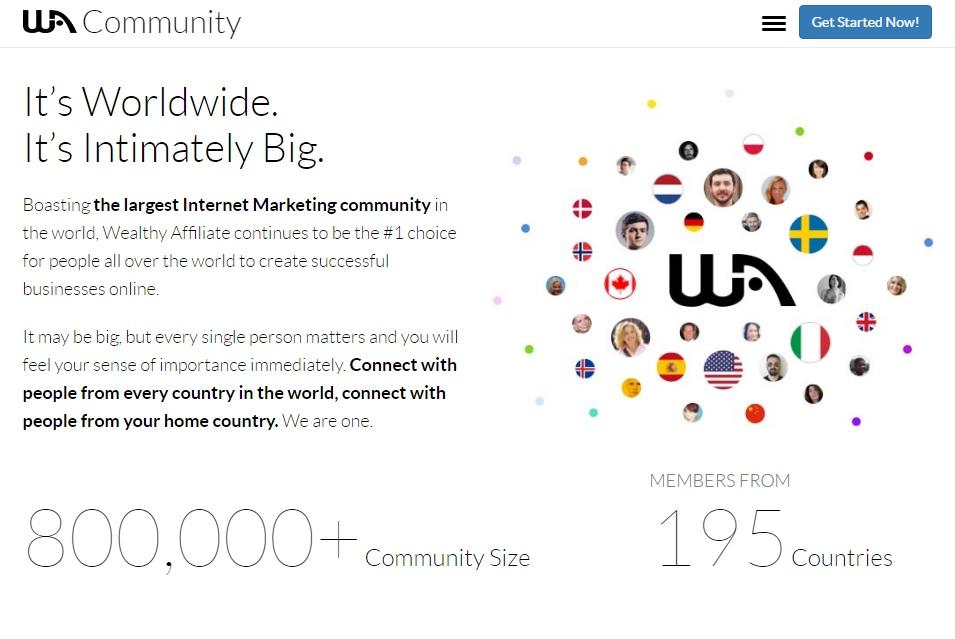 Joining leads to 5x more success while reaching their online income goals in 1/3 the time you normally would be starting to see positive results. Having mentors and support from a like-minded group of people really is priceless and really has become a necessity.
People are more skeptical today and are not willing to buy as soon as they click your ad link and get to your landing page. Plus, most likely since they are encountering your brand for the first time chances are very slim that they'll give you their email and sign-up for anything. That is why it is imperative that you rank your pages organically in the search engines, doing research on keywords that you'll actually be able to rank for (see above keyword tool review).
Stats show that it takes roughly 7 times of encountering your brand / offer before deciding to take any action (including buying). This is true for advertising. But when someone clicks on your link from search engine results, because the searching party was actively looking for info on those keywords anyway, you will get a much higher conversion rate once they reach your site and see your affiliate links within your content.
So, here's what you need to do…
---
Create an online business/brand first, meaning a web presence through a website and social media accounts. Choose a domain name that is relevant and catchy. Avoid using dashes (-) in your name if your chosen name has been taken. Preferably a .com domain.
By doing this you are building something that is real, an actual asset. These web assets can even be built up and sold like actual physical real estate. After all you are creating a business that can earn monthly income for you or you can ultimately sell the whole business. So you never really have anything to lose because the start-up costs are so darn low. About $10 per year for a domain.
As long as you can get your site to rank in the search engines like Google and Bing, for keywords relevant to your business, it will have real value. The reason is thousands of people search for these keywords every day and if people keep finding you it will keep on bringing visitors interested in your site in the form of organic (free) traffic. Once you are ranked in the search engines for these particular keywords they continue to bring customers on auto-pilot for a very long time (years upon years) with little to no additional effort on your part.
This in essence creates a passive income stream because visitors to your site will be clicking on your affiliate links and buying your recommended products and services without you doing anything. Getting traffic that is relevant will convert automatically making you money all the time. Set it up once and forget it basically.
It sells for you pretty much forever as long as you maintain the site and add updates occasionally. There are sites that get about 2,000,000 visits per month in organic traffic. So the problem isn't traffic, it is getting enough content out there that you start getting the clicks from the search engines.
Avoid Shiny Object Syndrome
---
You don't want to be pulled in all directions. Focus on one business model. In my humble opinion Affiliate Marketing is the best by far because of the little to no costs to start and potential for massive gains. (Here is the exact same affiliate marketing training that allowed me to make a full time income online ( it's still free to join).
Others will talk about how dropshipping and Shopify is the way to go, or Amazon FBA. No! No! No! Nothing but a bunch of huge headaches. First of all, they are highly capital intensive. Meaning you have to invest thousands up front. You have to deal with returns, merchants, customer service, billing, shipping, tracking numbers, the list goes on and on.
For example, with Amazon FBA you have to deal with, creating an original product, having it produced (dealing with manufacturers in China most likely, because if you can't produce it cheap enough, it's not worth the hassle of shipping and customs duty.) Absolutely huge investment for inventory a minimum order amounts, not to mention if your product doesn't sell well. This is just the tip of the iceberg when it comes risk and problems that can arise.
Here's What Usually Happens…
---
You start to learn about an internet business model and after 6 months of exhaustive effort you don't see the profits you thought you'd get. So you hop back on YouTube and watch more videos on the next big thing with some guy bragging and misleading you into the next way to try and make money online. And you find yourself in this vicious cycle. Am I right?
So you may have tried these different 'so called' sure ways to earn online and now you're ready to finally get serious about affiliate marketing (in my opinion the only true online business model worth pursuing).
I'm going to save you a lot of heartache and wasted time. My final recommendation is to join here: the free training community where I got my start. If you' like also read my in-depth review below and you'll see why you'll never have to search for any other training on affiliate marketing again.
Time to Go All In!
---
It really is the most ideal business model on the planet. I can't emphasize this enough. Find someone else's product or service that is already in high demand, you don't deal with any logistics, just pure promotion using mostly free online tools, such as a WordPress site and social media. In some cases you'll earn 50% or 60% in commissions. Just as much as the original product owner. And no need to advertise if you don't have the budget. Little to no cost and absolutely no risk. You have nothing to lose, literally. And the world to gain!
If you want to make in online business you must stop dabbling here and there. It takes 100% of your focus, time and energy to learn and executing affiliate marketing. It's not easy and not a get rich quick type of deal, but I'm here to tell you that within 3-6 months of starting in affiliate marketing, bringing in at the very least $50-$100 a day is very real. Read the review of the online training platform that made this a reality for me. You'll thank me later.
So to sum up. The basic premise is to take action once and for all, learn step by step how to become an affiliate marketer for free with the training community mentioned above, at no cost to you. If you work hard up front consistently, you'll be able to lay back and reap the rewards later in the form of passive income. You've got to have the right mindset from the outset. Being disciplined and patient while taking the time to thoroughly learn the process, setting everything up for the long-term, in the beginning is key to earning a living online.