As its popularity grows, quite a lot of people are looking for more information regarding a Wealthy Affiliate scam. Chances are you'd like to try out the free membership, but just want to make sure it's not a total waste of time. Rightly so.
Since researching Wealthy Affiliate (WA), you've probably come across many sites mentioning just how great WA is and something is starting to smell a bit fishy. Let's expand on why this is…
Is Wealthy Affiliate a Scam?
Wealthy Affiliate is not a scam and doesn't use fraudulent business tactics. The reason this business may be perceived this way is because of the thousands of affiliates that are promoting their membership program. They do not advertise much and rely on word of mouth, or in other words, affiliates to spread the news about how effective the training and impressive their platform is. WA is a legitimate business and is as transparent as a company can get. They even publicly published everything about a recent lawsuit (as you'll see below) in which they were falsely accused of defamation.
Is Wealthy Affiliate Legit
Wealthy Affiliate is a legitimate business based in Canada under the parent name Niche Marketing, Inc. They are highly regarded as an exemplary member of the community and have an A+ rating with the Better Business Bureau (BBB). The way they conduct themselves should be applauded and as you'll see, they truly are one of only a few ethical businesses left, among so many dishonest programs within this industry. Understandably, it can seem too good to be true when everyone is praising them. Although they do deserve the praise they're getting (we'll get into exactly why later on in this post), it may still be difficult to believe the hype.
Wealthy Affiliate Lawsuit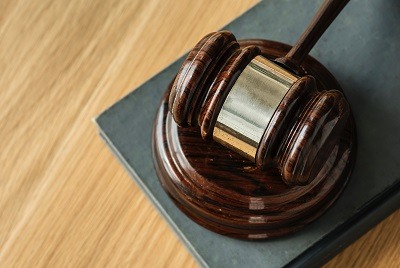 Wealthy Affiliate was recently successful in defending itself against false accusations and claims. On September 14, 2018, they won the case against MOBE Ltd (My Online Business Empire)., a competitor, who claimed one of the owners of Wealthy Affiliate, Kyle Loudoun, defamed them in an article titled "Another Obvious Scam".
The article laid out facts, warning people of the MOBE scam, while explaining in detail the negative aspects and why people should avoid them. Unfortunately, thousands of people from all over the world fell for it and were cheated out of their money. As an example of just how honorable Wealthy Affiliate is, they donated half of the $130K that was awarded to them, back to the victims of MOBE. They wanted to show those that had been scammed that there are still ethical companies that care.
*Details of the Wealthy Affiliate lawsuit (in the owners [Kyle's] own words)
MOBE, Ltd. has since been shut down by the FTC for fraud after getting away with defrauding over $125 million from unsuspecting customers. Subsequently, the case against Wealthy Affiliate was dropped as everything written about MOBE was justified and true.
Is Wealthy Affiliate a Pyramid Scheme
Unlike MOBE, Wealthy Affiliate is not a pyramid scheme or an MLM (Multilevel Marketing) company. Their business does not rely on members recruiting others in order to make money. There are no sales quotas and you definitely do not have to recruit members or promote their services at all. Their aim is to teach you to create your own online business in order to earn a passive income for yourself.
The affiliate marketing business they help you start-up is based on your own interests and passions. You have full creative control and can pursue any genre (niche) that you'd like.
The products and services that you pay a membership fee for include: online training courses, community forum, webinars, top-notch hosting, WordPress blogging platform integration, website feedback & commenting modules, domain registrar services, keyword research tool, technical support, 24/7 live chat, etc.
Problems with Wealthy Affiliate
The problem with Wealthy Affiliate is that they have their own affiliate program which allows both free 'Starter' members and 'Premium' members to promote WA for a commission. This leads to thousands of affiliates promoting the program in hopes of earning quick money.
They offer a separate course within the training that focuses on how to promote WA specifically, which is called 'Affiliate Bootcamp'. Since part of this training is offered for free, it perpetuates the cycle of more and more affiliates creating WA reviews and sharing articles to get people to join for a monthly commission. This can give the company a negative image and may look shady to some, when in fact the community membership and training courses are completely legitimate.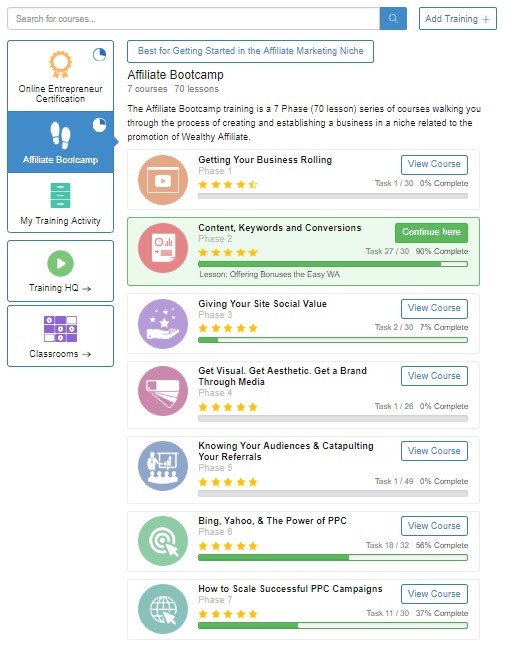 To WA's benefit, they do warn beginners that promoting WA should not be their first choice when starting out. Because there is so much competition, an over-saturated market, and others doing the same things that are taught in the Bootcamp training, it's very difficult to see any positive results. Subsequently, when these affiliates fail, they tend to bad mouth the program.
Note: The WA affiliate program is only for advanced marketers who have already created other sites successfully and promoting the WA program will most likely not be their main source of income.
Another problem is that when people join the community, they have unrealistic expectations to make money fast. Beginners that join are not willing to do the amount of work it takes to really build an online business properly and very few will actually put in the time while being patient enough to see positive results.
*Anyone who wants to make money online as an affiliate marketer should be aware that it can take anywhere from between 6 months to 1 year in order to see real success.
Who Owns Wealthy Affiliate
The founders of Wealthy Affiliate are business partners Kyle Loudoun and Carson Lim. Together they launched the WA platform in 2005. They were able to foresee the need to create an educational site aimed at teaching how to start an online business years before e-commerce and affiliate marketing were widespread. Being pioneers in this industry has led them to huge successes in the online business world. Demand for what they're teaching continues to increase to this day.
Kyle is ranked number one and is active within the community daily. You can often find him in the chat room and answering questions. He is the one who does all the training from the courses and classrooms. His teaching style is very calm and to the point, while going into extreme detail in his video explanations.
Connect with Kyle on Instagram
Carson is ranked number two and can also be seen actively responding to community members. His function is more technical in nature. He was responsible for spearheading all the technological advances within the various platform integrations that give users a seamless, smooth experience. If you have any technical issues he is the one to contact. The entire platform was recently redesigned in 2018.
Connect with Carson on Instagram
Check out Jay (Magistudios) blog here, he's ranked third, has been with WA for 12 years and is now a partner as well. He's the expert trainer that is doing the weekly hour-long webinars. He has archived hundreds of these training sessions (examples below) under the 'Live Events' tab. Jay is also the creator of the Jaaxy keyword tool being used within the WA platform.
Note: As a 'Premium' member you are able to view all the webinars and send a private message and personally contact Jay, Carson, and Kyle directly if you ever have any questions or need advice on something.
What is Wealthy Affiliate and How Does It Work
About Wealthy Affiliate
Wealthy Affiliate is a free online community of people learning and helping each other create blogs/websites that earn a stable income. They offer free video lessons and courses that show you step by step how to get an online business up and running. It's an easy to use platform that provides access to create free websites and ask questions in the forum, to individual members, and in the chat room.
What Does Wealthy Affiliate Do
Wealthy Affiliate is a membership site that has a large community forum where people that join come from all walks of life, from students to stay at home moms, to retired professionals, and is home to some of the most successful online marketers and business owners. If you have a passion or hobby, basically any interest, WA will teach you how to turn it into an income-generating online business through affiliate marketing.
WA also offers an affiliate program to invite your friends and earn money, while being able to private message with anyone that is a member.
They offer a blogging platform, a website builder, hosting, research tools, training courses, along with all the resources needed to build an online business, including helpful mentors, 'Ambassador' members and a helpful community that keeps everyone motivated to stay on task.
What Exactly Is Wealthy Affiliate
Wealthy Affiliate is, first and foremost, an online marketing training platform that offers comprehensive beginners, intermediate, and advanced step-by-step video lessons on affiliate marketing. Other main topics include creating a blog/website, landing pages, joining various affiliate programs, topic keyword research, growing an email list, pay-per-click advertising and guidance on the different ways to monetize your site and social media accounts.
Best Community for Blogging
Wealthy Affiliate is like Facebook for affiliate marketers. You can like and share training material, follow other members, and as people like / share things that you post, your rank will increase. By staying active, participating, and completing certain tasks within the lessons, you'll maintain a high rank which will, in turn, allow you to be rewarded monetarily as well.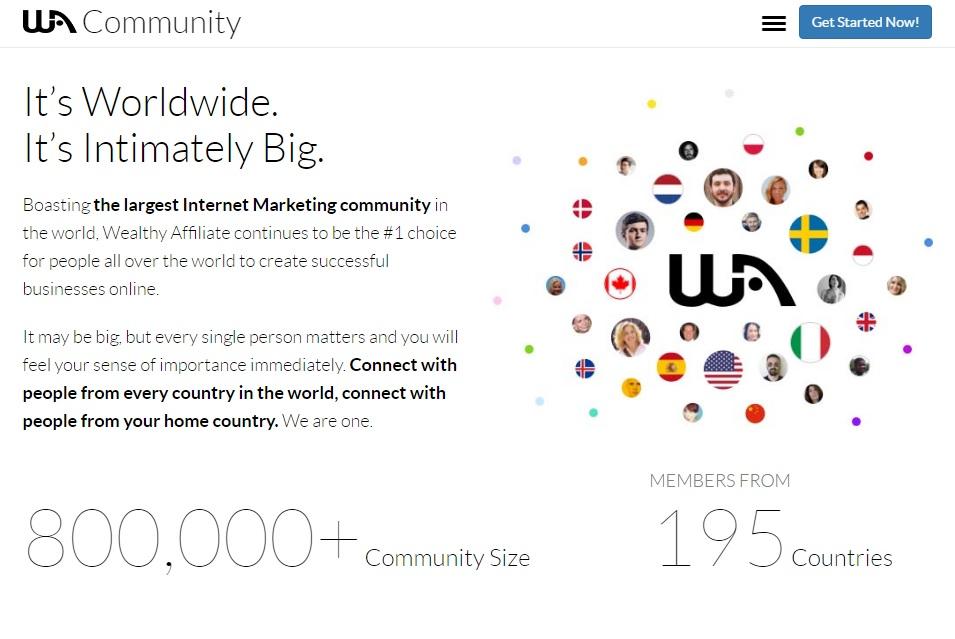 A major feature that sets the WA training apart from the rest, is its large active community. A re-imagined modern forum that boasts over 1 million online business owners and marketers of all levels and interests, all motivating each other, interacting by sharing knowledge and helpful tips on what is producing results.
With the ability to ask any question directly to 'Ambassador' members or post your inquiry for the entire community to respond, and/or get instant answers using the 24/7 chat room, you'll never feel lost.
It is much more than that though. It's the best forum for bloggers and beginners who started out just like you, asking "How can I make money online". WA's atmosphere is very positive and a social place with the ability to "like" other peoples posts and comments. You can "follow" people who are helpful to you. People will follow you back when they see you are active and responsive.
The daily interaction and relationship building within the platform is truly priceless. It really is a great place to just hang out and chat, exchange ideas, motivate each other, and constantly seize endless opportunities. I am not going to get into how this is done here because all the professional courses are at your disposal all for free…
Note: WA provides all the tools and resources you will need to start an affiliate marketing business, all in one platform. You'll be able to launch and manage all your blogs/websites just by logging into WA.
Here are some of the functions you can perform right within the platform:
View and complete all task-based training modules
Participate in Classroom discussion
View weekly video webinars and archived recordings
Search and purchase domains within the platform
Search for niches to pursue and affiliate programs to join
Perform comprehensive keyword research and rank tracking activities using Jaaxy
Write content for your blog or website and publish right from the content platform
Ask for feedback and comments regarding your articles
Get technical assistance from SiteSupport in just minutes, at any time of day
Does Wealthy Affiliate Use WordPress
Yes, Wealthy Affiliate is fully integrated with WordPress.org, the website/blogging platform that has a full-fledged content management system built in with plugins for increased site functionality. There's 24/7 technical support for any issues you have with your selected theme or plugins.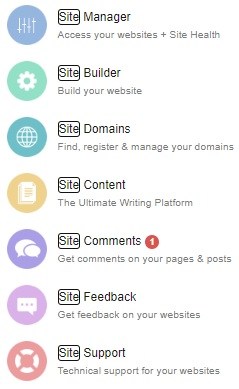 The SiteManager is another great add-on which is where you'll access all of your websites and automatically login to your WordPress dashboard. This is where you manage your site's health, increases your site speed, utilize SSL to secure your website and proprietary cache technology.
With the SiteBuilder feature, launching a site from scratch and connecting your domain name is especially easy. Because WA is hosting the site as well, everything works seamlessly and recommended plugins come pre-installed. Choose from hundreds of ready-made templates and build an affiliate website in under a minute.
With SiteDomains you can search and register domains by purchasing directly within the module. Another fantastic feature is that when you are performing keyword research using the Jaaxy keyword tool, it will suggest available domains for keyword results. This allows you to find high-value domains with little effort.
Using the SiteContent system is really helpful for the organization of your blog posts and pages, by placing them in buckets. They can then be arranged by 'work in progress', 'ready for publishing', and so on. There are ready-made templates and you can publish directly from this platform without logging into your WordPress backend.
SiteComments is great for increasing engagement on your blog posts and within your pages 'comment' sections. You may request quality, original comments from other members who actually take the time to read your article and offer thoughtful, genuine comments and questions. Through this platform, you may also give comments and earn WA credits that may also be used within the system or cashed out.
SiteFeedback allows you to get constructive feedback from experienced members and helpful suggestions regarding site design, structure, menus, sidebars, color schemes, logos, and overall user experience.
SiteSupport is a 24/7 tech-support service with a response time of within 5 minutes to resolve your issues no matter the time of day. Whether it be site migration, domain transfers, issues with your WordPress site, plugins, you name it, they will fix any problems you may encounter.
Best Affiliate Marketing Training Program
WA is perhaps the most robust and professional online training and website building platform for those who want to learn how to create a blog or website that generates online income through commissions (monetized niche sites). Not necessarily e-commerce sites. They teach how to bring more visitors (website traffic) and social media followers to your online business. This is explained in more detail within the first 10 free lessons that you can complete here Online Entrepreneur Certification – Level 1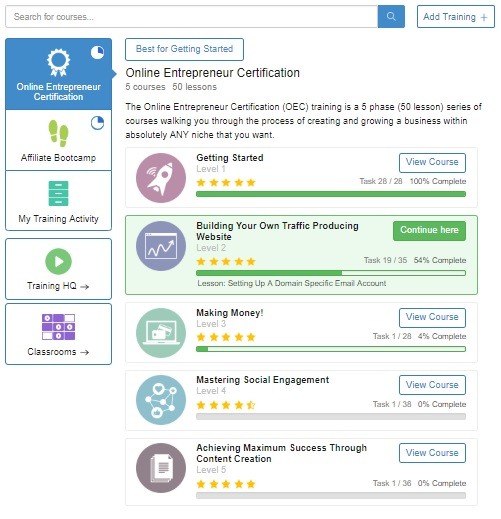 Hundreds of 'Ambassador' members and experts (including Kyle and Carson) are all actively helping and personally coaching newcomers.

Courses and lessons for those wanting to start an online business using the affiliate marketing business model.

Classrooms, Live Webinars and Events, Affiliate Bootcamp, thousands of lessons on every aspect of online business.

SiteBuilder using WordPress.org self-hosting, 2 free websites.

Best on market keyword search tool with a rank tracker and much more.

The most robust state-of-the-art hosting with SSL certificate included.

Help Center. Including SiteSupport (Hosting and technical issues) 24/7 Live Chat, Ask a Question (near instantaneous response from community ambassador members).

Private messaging of any member including the owners, Kyle and Carson.
Wealthy Affiliate affiliate program
Promoting Wealthy Affiliate
You can promote Wealthy Affiliate's affiliate program from almost anywhere in the world. This program is really for more advanced marketers. The "learn to make money online" niche is overcrowded with tons of competing products and is highly competitive. Usually, the best affiliate marketers compete in this space. You don't need to be a paying 'Premium' member to participate in the program.
If you are a beginner it is NOT advised to start out trying to promote WA. In fact, you should probably not be promoting WA exclusively. Your first affiliate marketing business should be built around a topic that you enjoy and know a little bit about. This is covered in WA's main course (see link above)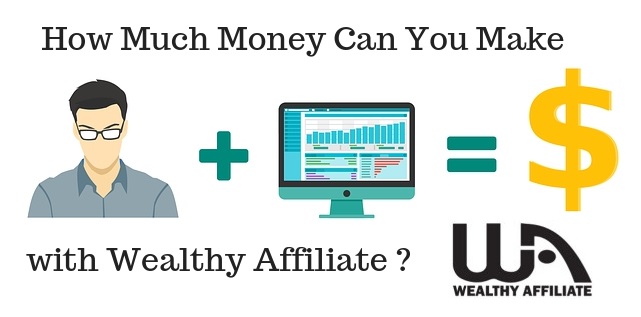 How Much Can You Make with Wealthy Affiliate
There are hundreds, if not thousands of members, earning anywhere between a couple thousand a month, all the way up to $10,000+/ per month. But most make a comfortable living earning around $3,000-5,000/mo. There are some doing this through the WA affiliate program itself, and other members that have an unrelated site, or both; generating high income from what they've learned in the courses.
Obviously, there are those that aren't able to earn anything and at the opposite end of the spectrum, you have some super affiliates earning close to $30,000 a month. The choice is yours regarding which route you want to take, either choose a niche that you are passionate about, or you can follow the 10 -course 'Affiliate Bootcamp' and promote Wealthy Affiliate.
The amount of money that you can earn with Wealthy Affiliate depends on factors such as:
your experience level
how dedicated you are
how much time you invest
how open you are to learning new things
whether or not you take action on what you are taught
if you give yourself enough time to see your efforts pay off
don't give up if you don't see results right away
your motivation level
computer skill level
and so on…
Here's a member's recent experience…check out Saco's blog here: April, 2018 – $14,000 in 3 months
*There are a ton more success stories. If you need further convincing type "success stories" in the search bar at WA.
I am currently offering free coaching over at WA (for a limited time). Join through my WA affiliate marketing mentor link here and I'll send you actual proof of my WA earnings and explain how I was able to do it. I'll also remain as your mentor until you start earning your first commissions online."
After you gain experience as an affiliate marketer and would like to join the WA affiliate program, here are some of the commission rates you can expect to earn:
If you can bring in 5 referrals per day, with a 12% upgrade rate (this is statistically true and I've seen the same results), and a retention rate on avg. is 4 months, you can expect to maintain a monthly income of roughly $1,500.
The more referrals will exponentially increase your monthly income as you can see in the 'Scenario 2' example below of over $22,000 per month in earnings.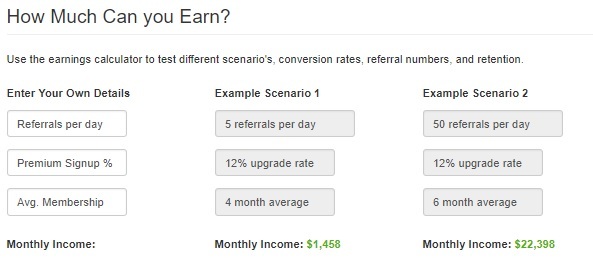 How Does Wealthy Affiliate Pay You
You will get paid out monthly on the 1st of the month through PayPal or wire transfer. You're able to select the payout threshold (the minimum you'd need to earn to get paid out), which begins at $10 and goes all the way up to $5000.
What makes the WA affiliate program so attractive is that the commissions are recurring, meaning you get paid each month, year over year, as long as your referral remains a member.
As a free 'Starter' member, each of your referrals that end up signing up to 'Premium' will earn you $4 for the 1st-month special offer, then $11.75 monthly thereafter. If your referral decides to pay for the entire year upfront, you'd earn $87.50 in yearly recurring commissions.
If you yourself are a 'Premium' member and you refer someone who signs up to 'Premium' as well, you'd be paid $8 for the 1st-month special offer, then $23.50 per month thereafter. Should they end up paying the discounted yearly fee, you'd earn $175 yearly recurring commissions as long as they stay a member.
How Long to Make Money with Wealthy Affiliate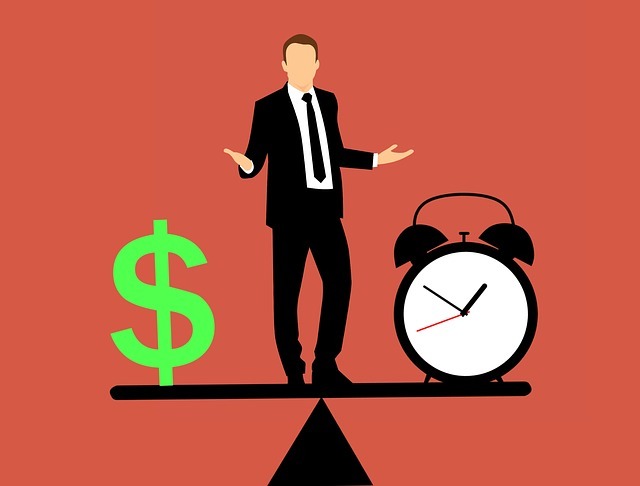 Some members see results within 1-3 months.  Realistically, however, most will see results within 6 months to 1 year. And the rest fall somewhere in between. Generally speaking, this is the situation. It really does depend on a number of factors, such as your work ethic and discipline. The important thing is to work on your online business in a consistent manner. Putting in the hard work upfront will allow you to earn a residual passive income while working on your business less and less. This is the best thing about affiliate marketing.
Some things need time to grow and mature to produce the results you're looking for. Wealthy Affiliate is teaching you to create an online business from scratch that will earn you monthly income consistently into the foreseeable future. It is not a make money quick scheme and you will not see overnight success.
It is a process that has been tried and true. The best part is that it is repeatable. Rinse and repeat – this means that there is no limit to what you can achieve. Only time will tell and time is on your side when your expectations are in line with what the end goal is.
The training is super high quality and geared towards newcomers.
You are learning from the best in the business. The owners and Ambassador members.
Any question you have is answered within hours, if not minutes by the 24/7 community.
Plant the seeds and enjoy the fruits of your labor. All good things come to those that have patience.
Cost of Wealthy Affiliate
How Much is Wealthy Affiliate
'Starter' membership is completely free for as long as you remain a member. There is no expiration date. It is not required to upgrade to 'Premium' membership at any time. These are some of the features and benefits that are included in your 'Starter' membership:
Live help for the first 7 days
2 free websites, including domain name and hosting
Daily website backups
Beginners training courses
Wealthy Affiliate 'Bootcamp' training
Video walk-throughs
30 free searches – Jaaxy keyword tool
2 training classrooms
1-on-1 coaching for the first 7 days
How Much is Wealthy Affiliate Premium Membership
'Premium' membership is $47/mo. and is not required for basic training, access to the community, and two free websites. (free WordPress templates, including hosting and support). Or you may pay for the entire year upfront for a discounted rate of $359, which comes to $29 a month. $1 a day.
Here is a comparison chart showing the difference between the free 'Starter' membership and 'Premium' membership.
Starter vs. Premium Membership – Comparison Chart 
Pros and Cons of Wealthy Affiliate
PROS:
Joining is free, $0 'Starter' membership for life
Video courses, tutorials, and training are easy to follow step-by-step
Access to 14 interactive classrooms
Access to certification courses
Access to live classes
Thousands of community members to connect with and learn from
24/7 help from live real people
Access to industry experts and experienced affiliate markers, bloggers
A strict, spam-free environment
They give you 2 free domain names
They give you 2 free websites, including state of the art hosting
High paying affiliate program available to promote
CONS:
You may get overwhelmed by all the information available
With the high number of resources, it's tempting to jump around and lose focus
The community activity can be distracting at times
Too many affiliates promoting WA
The sheer amount of quality information inside the members' area can be quite overwhelming. So be aware that in the beginning, it is best to go through the training before exploring further and getting confused. Just follow the lessons in order and pop into the 24/7 live chat area to ask all your questions to get instantaneous answers.
So as long as you take your time, complete the courses in the correct order,  and do not rush through the modules, you will do just fine!
Should I Join Wealthy Affiliate
It is highly advisable to join the $0 'Starter' membership. You can stay a 'Starter' member for as long as you like and there is a ton of knowledge you can gain and use to start your own online business. You literally have nothing to lose, but there's so much to gain.
In fact, please bookmark this page, then go and join then come back share your first impressions here. Then come back a month later and let us know how everything is going. Hopefully, this Wealthy Affiliate review has helped you understand what Wealthy Affiliate is all about and to clear the air regarding its legitimacy.
Join Wealthy Affiliate + Free Mentoring
Here's one more reason to join Wealthy Affiliate right now. I will be your personal coach at no cost; so free membership and free mentoring.
If you're serious about making a change in your life, then take me up on my mentoring offer. There are no excuses not to get started. It's all included if you sign up through any link on this page.
*Also, see why having a personal affiliate marketing coach is so important and learn all the benefits you will get from signing up.
I look forward to teaching you everything I know and personally helping you earn your first dollar online.